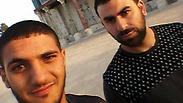 Five indicted for incitement against Israel
East Jerusalem residents indicted for uploading Facebook posts praising 'heroes' and 'martyrs' who carried out Temple Mount shooting, urging people to emulate their 'spontaneous, unplanned attack' using 'a rock, a knife, an ax, a Molotov Cocktail or a lighter'; police also arrest over 30 suspects involved in riots over Temple Mount crisis.
Indictments against five residents of east Jerusalem were submitted Monday for offences including incitement, calling for terror attacks to be carried out against Israel and for a string of posts uploaded onto Facebook supporting the deadly terror attack earlier this month on Temple Mount which claimed to lives of two policemen.

The indictments, which were filed at the city's Magistrates' Court by the Jerusalem District Attorney's Office, were submitted with the approval of Attorney General Avichai Mandelblit.

Clashes and arrests (קרדיט: דוברות המשטרה)

Mohammed Mahiymar, 19, from 'Anata was one of the people indicted for posting on a number of occasions in 2014 on his Facebook page calls for violent and terror activities against Israeli civilians and security forces, and also for praising and supporting the Hamas terror group and its military arm Izz ad-Din al-Qassam brigades and the Democratic Front.

After the Temple Mount attack took place, Mahiymar wrote on his social media page: "They thought that the heroes had aged but they are still alive, and they took them down between tunnels, entrances and gates. Friday of the martyrs."

The same day, he also uploaded a picture of a policeman holding his face in shock as paramedics tend to the wounds sustained by his colleague, accompanied by the words: "Hell and darkness in the next life."

One of the terrorists being shot

A few hours after the attack, he also wrote: "With a rock, a knife, an ax, a Molotov Cocktail or a lighter. Spontaneous without planning. Three martyrs came from Umm al-Fahm. A thousand consolations are with us and we are following you. We were raised on the holy way of death."

Later on, one of the other individuals posted: "Today, Palestine got four martyrs. Our dead are in heaven and their dead are burning. The martyrs of Jerusalem."

Another one of the indicted individuals, 17, also posted content supporting terror organizations. On the day of the Temple Mount attack, he posted a picture of two of the terrorists who carried out the attack accompanied with the words: "A picture of two martyrs from the heroic attack that they uploaded before the attack…#smile-tomorrow-more beautiful #martyrs-of Al-Aqsa."

Other posts included similar glorification of the terrorists. "The martyrs are similar to the beauty of the Dome of the Rock, to the beauty of the Old City. On this holy Friday four martyrs ascend, to prove to everyone that the intifada continues."

Twenty-six-year-old Safi'an Mahmoud from Isawiya and Mohammad Samasana, 23 from the Shuafat refugee camp, were also indicted for uploading posts calling for violence and terror against Israelis and showing solidarity with terror groups.

In addition to the indictment, police arrested 33 suspects overnight Sunday who participated in public disturbances over the last few days during riots which erupted over the Temple Mount.

During the clashes with Israeli security forces, many rioters threw Molotov Cocktails, rocks and fired fireworks, injuring a number of policemen.