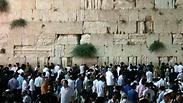 Kotel
Photo: Eli Mendelbaum
Jews the world over will begin fasting on Monday night until the following evening as they mourn the destruction of the First and Second Temples which marked the genesis of their 2,000-years-long exile from the Land of Israel.

The day of collective mourning, Tisha B'Av, meaning the 9th of the month of the Jewish calendar month of Av, is an annual fast day which also commemorates the anniversary of a number of disasters which have befallen the Jewish people throughout the ages.

But primarily, the fast day, which concludes Tuesday evening, focuses on the destruction of both the First Temple by the Babylonians and the Second Temple by the Romans in Jerusalem.

In addition to the lamentations which are read during the day, Jews also use the opportunity to engage in introspection, reminding themselves of the Mitzvot (positive deeds and commandments) which they are obligated to fulfil.

The day also provides people in Israel the time for self-reflection and consideration of ongoing conflicts, particularly internal divides within the country.

The mourning period actually lasts for three weeks, and culminates with the fast of Tisha B'Av when the books of Kinot is read as worshipers gather inside synagogues at night and sit on the floor to symbolize the suffering their ancestors underwent.

The main event of the fast takes place at the Western Wall which each year sees a turnout of thousands of Jews, flocking to the site, the last surviving remnant of the temple, as they pray and lament the its destruction.

There, the worshipers read the megillah (book) of Eicha, literally meaning lamentations which centers around the prophet Jeremiah and the destruction of the First Temple. Eicha is also recited in the synagogues around the world.

Each year, Jews stay throughout the night at the Kotel and some stay until the conclusion of the early morning prayers, Shacharit.

Those unable to make it to the Kotel however will participate in the synagogues in a national event called "The night of not learning Torah" which will consist of discussions focused on Israel's 70th year of independence.