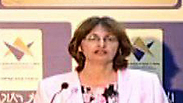 Atalya Rosenbaum
Photo: Courtesy of Channel 10
Report: Another former National Security Council official involved in submarines affair
Former deputy national security advisor, Atalya Rosenbaum, reportedly tried to convince Israel's ambassador to Germany Yoram Ben-Ze'ev to meet with ThyssenKrupp representative Miki Ganor over the purchase of the sixth submarine; Ben-Ze'ev turned her down, telling her: 'Do me a favor. Don't call me anymore.'
A former deputy national security advisor, Atalya Rosenbaum, allegedly tried to convince Israel's ambassador to Germany to meet with state witness Miki Ganor, who mediated Israel's submarines purchase from ThyssenKrupp, Channel 10 News reported on Tuesday evening.

According to the report, Rosenbaum told Ambassador Yoram Ben-Ze'ev, "You're about to retire. Miki Ganor has a lot of management and directorate positions (to offer)."

Rosenbaum was the deputy to National Security Council head Uzi Arad until July 2010, when Arad claimed she was untrustworthy and sought to oust her.

According to the Channel 10 report, Rosenbaum has close ties with another former deputy national security advisor, Avriel Bar-Yosef, who is a main suspect in the submarines affair, as well as with Defense Minister Avigdor Lieberman.

Arad, according to the report, did not know about the ties between Rosenbaum and Ganor.

The Israel Police is currently investigating suspicions of corruption surrounding the procurement of submarines and patrol ships for the Israeli Navy from German conglomerate ThyssenKrupp, represented in Israel by businessman Miki Ganor.

Ganor, a main suspect in the case, has recently reached an agreement to become a state witness. He will provide the police with all of the information he has pertaining to the case and in return will spend only a year in prison and pay a fine of NIS 10 million.

Ambassador Ben-Ze'ev was entrusted by the Israeli government to promote the sale of a sixth submarine for the Navy. Ganor tried to set up a meeting with Ben-Ze'ev, but the latter refused.

Rosenbaum then called the ambassador and recommended he met with Ganor. After hearing Ganor's proposals from Rosenbaum, Ben-Ze'ev responded with, "Do me a favor. Don't call me anymore."

Rosenbaum said in response, "It's true that I'm friendly with Ganor. I had work ties with Bar-Yosef, but I didn't deal with the sixth submarine. I didn't call Yoram Ben-Ze'ev and did not tell him what was claimed, nor did I have business ties with Ganor after leaving my position."

Earlier, the Rishon Lezion Magistrate's Court imposed a gag order on the details of testimony given by Ganor.

The order applies to every detail of the case pertaining, related to or stemming from Ganor's testimony or the proceedings coming before he signed the state's witness agreement, including investigative actions deriving from said testimony and every detail of future testimony in the case against him and/or other persons to be derived from his testimony.

The order will remain in force until September 17, 2017.