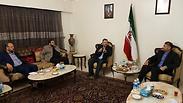 A Hezbollah-affiliated journalist published a photograph of senior Hamas official Saleh al-Arouri—who was recently forced to relocate from Qatar—meeting with an Iranian official in Beirut on Wednesday.

Two years ago, al-Arouri was also forced to leave Turkey following joint US and Israeli pressure. The recent moves indicate a new Hamas policy of senior leadership not settling in one particular country for an extended period of time, but rather constantly moving.

In the photo, al-Arouri is seen meeting with the special international affairs assistant to the Shura Council Chairman, Hossein Amir-Abdollahian, who has served in various positions in the Iranian Foreign Ministry.

Pictures from the meeting also depict the head of Hamas' international affairs, Osama Hamdan and Hamas' representative in Lebanon, Ali Barakeh.

Iranian news agency IRNA reported on the meeting and emphasized al-Arouri's presence.

According to the report, the Iranian official stressed that an important part of regional security and the fight against terror is linked to the strengthening of the "axis of resistance."

Abdollahian also added that Tehran supports Hezbollah, Hamas and Islamic Jihad under the umbrella of Muslim unity and the fight against the "Zionist entity." He further chided other Arab nations for apparent normalization of ties to Israel, noting that such efforts will not succeed.

Al-Arouri in turn praised Iran for its support for the Palestinian cause and added that Jerusalem was the first direction Muslims would pray and the struggle to liberate all Palestinian lands will continue.

"Hamas will continue its constant struggle with the other resistance factions until the goals of the Palestinian people are met and the liberation of Jerusalem," said al-Arouri, who also called on other Islamic nations not to allow a situation in the region which serves Israel's interests.