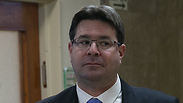 The Minister of Technology and Space Ofir Akunis
Photo: Ohad Zwigenberg
The Venus agricultural monitoring and environmental research satellite, built for the Israeli and French space agencies, and the advanced observation Optsat 3000 satellite, intended for use by the Italian Ministry of Defense, were launched to space early Wednesday from French Guinea.

The two satellites, developed and constructed by Israel Aerospace Industries (IAI), both entered successfully into orbit, the Ministry of Science said.

The satellites were launched using a Vega launcher, which weighed 137 tons at the time of launch and is 30 meters high—as tall as a building. This state-of-the-art launch system guarantees the satellite is ejected from the launcher at the precise moment for its trajectory. Vega has so far registered an impressive record of 100 percent successful launches.

Wednesday morning was no different, when at 6:18am Israeli time Venus detached from the launcher. At about 10:30am, according to a statement by the Ministry of Science, Venus was expected to send its first communication to the IAI control center when it passed over Israel. Then, at around 12pm, its second communication is expected.

The Minister of Technology and Science Ofir Akunis, who observed the launched from the control center, said: "Venus is just further proof of Israel's immense technological capabilities. We're a science, technology and space superpower that the entire world seeks to collaborate with. Many countries will enjoy Venus's findings in the very near future for the purposes of environmental, agricultural, water and food research."

Yossi Weiss, CEO of the IAI who was also present at the French Guinea launch site, said: "This is a moving event for the Aerospace Industries in particular and Israel in general. Along with our partners in Italy, France and Israel, we're proud to see our two flagship projects in Venus and Optsat 3000 sent on their way after years of laying down the groundwork for them.

"The Aerospace Industries will continue spearheading the field of observation satellites for Israel, with many future projects yet to come."

Weiss then called upon the government to invest more in satellite technology: "We hope the government of Israel can continue safeguarding Israeli industry in the field of communication satellites. Now is the time to make an immediate decision on this issue."

Venus—the country's first environmental research satellite—is considered the Israeli and French space agencies' flagship project. It's equipped with a special camera capable of capturing details on Earth at 12 wavelengths, including some not visible to the naked eye. The satellite will photograph recurring areas of Israel and the world and provide researchers with dozens of daily photos, each one covering some 760 km2.

The Ministry of Science explained the satellite's orbit allows for turnaround time of once every two days for photographing the same area at the same viewing angle. Venus will orbit Earth 29 times in 48 hours delivering photos at the above frequency, which will allow researchers to detect frequent changes in flora, ground, beaches, intra-continental bodies of water and the atmosphere. The ministry also stressed this combination of capabilities is unique to Venus and affords the Israeli satellite an advantage over other environmental satellites currently in orbit.

The first sign from Venus to communicate it's operating as it should is expected to be received at the Israeli control center about five and a half hours after launch. The satellite will enter a heliosynchronous orbit at an altitude of 720 km two days after launch.

The first simulations testing the satellite's systems, which Venus will take over Israel, will be received a week post launch. The simulations will undergo processing and be distributed three months after its launch. Venus is planned to operate in outer space for four and a half years, after which it will be diverted to a lower orbit.

While Venus is a joint Israeli-French project, all of its hardware components were developed by Israel's space industries: apart from IAI that built the satellite's body and integrated the other components into it, Elbit Systems developed its unique camera and Rafael Advanced Defense Systems developed its propulsion system. As a result, the entire satellite is of Israeli manufacturing and construction.

Optsat 3000 is a 400 kg high-resolution observation satellite. It possesses high maneuverability and immense operational flexibility, partly thanks to its weight—which is significantly lower compared to similar satellites—achieved thanks to innovative miniaturization technologies developed by the IAI. The satellite has a 50 cm resolution, allowing differentiation between minute details on the ground. This resolution places Optsat at the forefront of its kind. It was purchased by the Italian government in 2012.