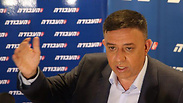 Labor leader Avi Gabbay. Ignoring the political game
Photo: Motti Kimchi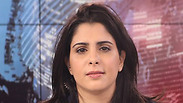 Moran Azulay
Photo: Yaron Brener
Centralization and belligerence: Labor's new ways under Avi Gabbay
Analysis: Three weeks after being elected, the new Labor Party Leader seems focused on the general elections, which are nowhere in sight for now, while making huge transformations within the party. Some say he is operating like a CEO in the private sector, while others believe the management methods he is introducing could save the Labor Party from degeneration.
Members of the Labor Party are still trying to digest the new ways of action introduced by their new leader, Avi Gabbay. Three weeks after being elected Labor chairman, Gabbay seems focused on the general election day, which is nowhere in sight for now, while making huge transformations in the party. It doesn't always end peacefully.

Some say Gabbay is operating like a CEO who is ignoring the political game and working according to the private market's management methods—centralization and belligerence. Others say it's just the beginning and Gabbay's new ways could brush the dust off the party and lift it out of the degeneration process it has been undergoing in recent years.

In any event, it seems no one in the party can ignore Gabbay, who isn't asking for any days of grace and isn't waiting before implementing the changes he wishes to lead—sometimes at the cost of harsh criticism against him from the veteran party members and key activists.

For example, party members say, a day after the election Gabby convened the party workers, who were surprised to discover that he was already fixed on the future. He wanted to know what each worker does, and made it clear to them that "from now on, I'm asking you not to engage in internal politics. Whoever engages in that rather than in preparing the party for elections—simply won't be here."

According to party workers, the new chairman asked Labor Secretary-General Eran Hermoni to cut inessential positions and divert the money to the election campaign. "He doesn't care who the person is and how long he's been working," said a party source. "He only cares about the bottom line: How the employee contributes or can contribute to Election Day."

In a different case, Gabbay announced his intention to bring in a new director-general who would handle budgets and manpower, among other things. In a party secretariat meeting and after discussing the issue with Hermoni, he used relatively delicate words to describe the move to the employees: "I plan to bring in a new director-general, and Eran and I will decide together on the outline of his work." When Gabbay defined the new director-general's responsibilities in closed meetings, he was told that they contradict the party's constitution but was undeterred. "If needed, we'll change it," he said.

Veteran workers were outraged by the unequivocal demands he presented and the approach he brought along, several days after taking office. Even if there is a proper goal, they said, the means are wrong and problematic. Some Knesset members, on the other hand, say that Gabbay's determination and insistence on going against the acceptable rules may benefit the party.

The criticism directed at him recently isn't just over his aggressive style and the decisions he makes without consulting veteran workers, but also over the new policy Gabbay wishes to adopt, which some say is crucial for his goal of becoming prime minister. It began after Gabbay received invitations to internal political events and was asked to address veteran party members. He told the organizers, "I expect you to organize meetings with new audiences who will bring in new voters."

Gabbay adopted a similar approach in regards to New Year toasts. He informed key activists that he wouldn't attend events in the party's different offices across the country ahead of the Jewish Holy Days, but would rather hold a major event which all senior party members would be invited to, breaking a long-standing holiday tradition in the party.