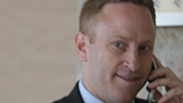 Ari Harow
Photo: Alex Kolomoisky
Netanyahu's former chief of staff Harow in talks to become state witness
Police hope Ari Harow, who is facing charges of bribery, breach of trust, conflict of interest and fraudulently obtaining benefits, could provide them with information pertaining to both criminal investigations against PM Netanyahu.
Law enforcement authorities are in talks with Ari Harow, Prime Minister Benjamin Netanyahu's former chief of staff and close confidant, on becoming a state witness.

A state witness agreement with Harow could have a significant impact on the two criminal investigations currently ongoing against the prime minister.

Netanyahu is suspected of receiving illicit gifts from rich donors (the so-called Case 1000) and holding talks with Yedioth Ahronoth owner Arnon Mozes on getting more favorable coverage in return for promoting legislation against Yedioth's rival newspaper Israel Hayom (the so-called Case 2000).



In Case 1000, Harow could provide police with information on the prime minister's ties with the wealthy donors in the center of the affair—American billionaire Arnon Milchan and Australian billionaire James Packer.

In Case 2000, Harow was the one who recorded Netanyahu and Mozes's conversations on his cellphone and was present at the meetings and could provide information on that as well.

Harow himself is facing charges of bribery, breach of trust, conflict of interest and fraudulently obtaining benefits.

The investigation against him has been ongoing for over two years. He is suspected of taking advantage of his public position at the Prime Minister's Office to promote his personal business, while falsely claiming to have sold his company.

By signing a state witness agreement, Harow could mitigate his punishment based on the quality of evidence he provides.

Harow started working for Netanyahu in 2002 as an advisor on foreign relations. He was also put in charge of raising donations abroad.

Later, he worked as the director of the Friends of the Likud Movement organization in the US. During that time, he introduced Netanyahu to wealthy donors, and consequently become close to the Netanyahu family.

In February 2008, Harow replaced Ayelet Shaked as Netanyahu's chief of staff. Two years later, he left due to health reasons.

During his time away, he started an international consulting firm providing lobbying services to states and different organizations.

In 2014, he was once again made the prime minister's chief of staff, replacing Gil Sheffer.

When he returned to the PMO, he signed a conflict of interest agreement in which he was made to sell his company for $3 million, but the PMO's legal advisor found out the buyer was not transferring the payments. Officials at the Justice Ministry suspected the sale was entirely fictitious. Later, the buyer announced it was canceling the sale agreement and Harow had to leave the PMO in 2015.

Harow resigned, and was arrested at the end of 2015 upon returning to Israel. Police recommended indicting him in February 2017.

A team of investigators from the police's Lahav 433 Investigative Unit recently returned from the US with new testimonies that reportedly further implicate Harow, likely leading to the current effort to turn him into a state witness.

Another issue under investigation is Harow's involvement in inviting Madagascar President Hery Rajaonarimampianina to a visit in Israel. Harow's consulting company, H3 Global, was involved in organizing the visit. Harow himself was present in the meeting between Netanyahu and Rajaonarimampianina.

Harow's name also came up in a report on an affair known as "Bibi Tours," in which Netanyahu and a group of Knesset members were suspected of licitly receiving reimbursement for flights abroad. The investigation against Netanyahu was scrapped by Attorney General Yehuda Weinstien in 2014.

The Friends of the Likud Movement organization, which Harow was the director of, funded several of Netanyahu and his wife's trips abroad. The organization is also suspected to have paid the salary of Odelia Karmon, who was an adviser of Netanyahu's.

Harow was also Netanyahu's contact with some of his biggest donors and friends in the US, including Arnon Milchan.

Harow might also provide information in the investigations into the prime minister's wife, Sara Netanyahu.