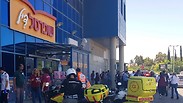 An employee was stabbed by a Palestinian at a supermarket in a terror attack in the city of Yavne on Wednesday.

The suspected stabber, 19-year-old Ismail Ibrahim Ismail abu Aram from Yatta, who also works at the Shufersal supermarket, was arrested after trying to flee the scene.

IDF forces raided the terrorist's home after the attack, while he was taken for questioning by the Shin Bet who learned he was in Israel illegally.

Stabbing caught on security cameras

Civilians who were on the scene subdued the attacker, with some of them kicking him while he was on the ground, calling on police to "Shoot him in the head!"

Passersby subdue attacker (צילום: תיעוד מבצעי מד''א)

The victim, 42, was in critical condition after suffering stab wounds to his chest, neck and head. He was taken to the Kaplan Medical Center in Rehovot, where he went into surgery. Three other employees were treated for shock.

"My wife and I were shopping. All of a sudden, a man with a backpack and an Arabic accent approached me and asked me if I worked there. I said no, and he kept walking," recounted Shlomo Brill, an eye-witness. "Ten minutes later, I heard screams from the checkout area. Everyone at the store went crazy. We thought it was a terror attack, we're all stressed out... the cashiers were screaming, the employees were shaking with fear."



One of the civilians who helped subdue the suspect recounted the incident: "I (heard) one of the employees call out 'stop him, stop him.' Another civilian tripped him, and then he and the employee neutralized the suspect. Police officers who arrived at the scene removed them but we still kept (hitting) him. We neutralized him some more until the cops handcuffed him."