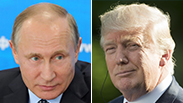 Putin (L) and Trump
Photos: AFP, Reuters
After US President Donald Trump reluctantly signed into law Wednesday sanctions on Iran, Russia and North Korea, officials from all three countries denounced the move, each in their own way.
Trump himself said the sanctions were "seriously flawed" and "clearly unconstitutional." The Republican-controlled Congress approved the legislation by such an overwhelmingly large margin on Thursday that it would have thwarted any effort by Trump to veto the bill.
The sanctions against Russia were a response to the Kremlin's supposed interference in the US elections and its military aggression in Ukraine and Syria, and against North Korea and Iran for their missile development programs and human rights abuses.
US ballistic missile launch test
Trump signed the sanctions, considered his most significant piece of legislation of his presidency, with no public event. And he coupled it with a written statement that accused Congress of overstepping its constitutional bounds, impeding his ability to negotiate with foreign countries and lacking any ability to strike deals.
Still, he said, "despite its problems, I am signing this bill for the sake of national unity."
Russia says sanctions show Trump's 'total impotence'
Trump has repeatedly blasted the federal investigation that concluded that Russia meddled in the 2016 campaign with the intention of tipping the election in his favor, calling it a "witch hunt." Sen. John McCain, R-Ariz., however, called the president's concerns over the bill misplaced.
"Vladimir Putin and his regime must pay a real price for attacking our democracy, violating human rights, occupying Crimea and destabilizing Ukraine," McCain said. "Going forward, I hope the president will be as vocal about Russia's aggressive behavior as he was about his concerns with this legislation."
Trump's talk of extending a hand of cooperation to Putin has been met by skeptical lawmakers looking to limit his leeway. The new measure targets Russia's energy sector as part of legislation that prevents Trump from easing sanctions on Moscow without congressional approval.
Russia wasn't pleased, either. Putin responded on Sunday by announcing the US would have to cut 755 of its embassy and consular staff in Russia. Additionally,Prime Minister Dmitry Medvedev said in an emotional Facebook post Wednesday that "Trump's administration has demonstrated total impotence by surrendering its executive authority to Congress in the most humiliating way."
The congressional review section of the bill that Trump objects to was a key feature for many members of Congress.
Trump will be required to send a report explaining why he wants to suspend or terminate a particular set of the sanctions on Russia. Lawmakers would then have 30 days to decide whether to allow that.
Last winter, just before Trump was sworn in, a bipartisan group of senators unveiled a bill designed to go beyond the punishments already levied against Russia by the Obama administration and to demonstrate to Trump that forcefully responding to Moscow's election interference wasn't a partisan issue.
Action on Russia sanctions didn't really pick up until late May, when Sen. Bob Corker, R-Tenn., chairman of the Foreign Relations Committee, threw his support behind the effort. The bill underwent revisions to avoid inadvertently undercutting US firms or interfering with how European allies acquire energy.
Lawmakers on both sides of the aisle celebrated the passage and signing.
House Speaker Paul Ryan, R-Wis., said the bill sends a "powerful message to our adversaries that they will be held accountable for their actions."
But the House's top Democrat said Trump's criticism of the bill raises questions about whether his administration will follow the law. Minority Leader Nancy Pelosi said the Republican-led Congress must not allow the White House to "wriggle out of its duty to impose these sanctions for Russia's brazen assault on our democracy."
Iran calls sanctions violation of nuclear deal
Iran said the US's new sanctions break the terms of its nuclear deal with the United States and other world powers, and vowed an "appropriate and proportional" response.
During his election campaign, Trump called the nuclear agreement—negotiated under his predecessor Barack Obama—"the worst deal ever."
"In our view the nuclear deal has been violated and we will show an appropriate and proportional reaction to this issue," Deputy Foreign Minister Abbas Araqchi said in an interview with state TV, according to the ISNA news agency.
The United States is one of six countries to sign up to the deal with Iran, and the others—Russia, China, Britain, France and Germany—have said they see it as a success in easing concerns that Iran might be trying to develop nuclear weapons.
The deal has also meant European countries flocking back to invest in oil-rich Iran, with French energy giant Total agreeing to develop a new phase of the South Pars gas field, the world's largest.
Araqchi said the Europeans would not allow Trump to destroy the nuclear deal.
"What Total did and the contract that was signed between this company and Iran sent a message from Europe to the Americans that whatever the conditions they will continue their economic relations with Iran," he said.
N. Korea bans US travelers, as US looks to suspend N. Korea from Asia security forum
A ban on travel by US passport holders to North Korea will take effect on Sept. 1 and Americans in the country should leave before that date, the US State Department said on Wednesday.
Journalists and humanitarian workers may apply for exceptions to the ban, the department said in a public notice.
The US government last month said it would bar Americans from traveling to North Korea due to the risk of "long-term detention" there.
The ban comes at a time of heightened tensions between the United States and North Korea, which has been working to develop a nuclear-tipped missile capable of hitting the United States.
North Korea will become the only country to which Americans are banned from traveling.
American student Otto Warmbier, sentenced last year to 15 years' hard labor in North Korea, returned to the United States in a coma on June 13 after being released on humanitarian grounds, and died June 19. The circumstances surrounding his death are not clear, including why he fell into a coma.
North Korea has said through its state media that Warmbier's death was "a mystery" and dismissed accusations that he had died as a result of torture and beating in captivity.
The State Department issued a notice in the Federal Register on Wednesday declaring US passports invalid for travel to, in or through North Korea. The restriction takes effect in 30 days, and applies for one year unless extended or revoked by the secretary of state.
"Persons currently in North Korea on a US passport should depart North Korea before the travel restriction enters into effect on Friday, September 1, 2017," the department said in a statement.
Professional reporters or journalists, representatives of the International Committee of the Red Cross or the American Red Cross traveling on official missions, those traveling to North Korea for "compelling humanitarian considerations" and those whose requests are "in the national interest" may ask for a special validation of their passports in order to travel to the country, the State Department said.
North Korea is currently holding two Korean-American academics and a missionary, a Canadian pastor and three South Korean nationals who were doing missionary work. Japan says North Korea has also detained at least several dozen of its nationals.
In addition to its own sanctions, Washington is seeking talks on how North Korea can be suspended from Asia's biggest security forum as part of a broader effort to isolate Pyongyang diplomatically and force it to end its missile tests and abandon its nuclear weapons program, US and Philippine officials said.
Acting Assistant Secretary for East Asian and Pacific Affairs Susan Thornton told reporters in Washington on Wednesday that North Korea's actions have violated the conflict-prevention aims of the ASEAN Regional Forum, which groups the United States and North Korea with 25 other countries.
The Philippines is hosting an annual ministerial meeting on Monday of the 27-nation ARF which will be attended by US Secretary of State Rex Tillerson and North Korean Foreign Minister Ri Yong Ho. Tillerson has no plans to meet Ri on the sidelines of the meeting, Thornton said. With the US, Japan and South Korea expected to push for stronger actions against the North, a verbal showdown looms at the forum.
"What we have been sort of looking at is having a serious discussion of what it would take for a member to be suspended from this organization that is dedicated to conflict prevention and preventive diplomacy," Thornton said. "I think we're going to continue to have that conversation as it regards North Korea."
"What we've been doing is going around talking to partners about what more could they do to contribute to that increasing pressure on the regime and the increasing sort of diplomatic isolation of the regime," she said.
Two Filipino officials told The Associated Press that US officials have discussed such a prospect with Philippine officials, who told them it may be better to keep North Korea in the forum, where it can be persuaded to stop provocations through dialogue.
A North Korean delegation led by its vice foreign minister flew to Manila last week and told Philippine officials of their hope for a "favorable environment" when Pyongyang's top diplomat attends the ARF meetings in Manila, said the officials, who spoke to AP on condition of anonymity because they were not authorized to discuss the matter publicly.
In response, the Philippine officials told the North Koreans they could not guarantee that because other member states, like South Korea, Japan and the United States, would definitely raise alarm over Pyongyang's continued missile tests. They asked the delegation why North Korea staged an intercontinental ballistic missile test last week, days before the ARF meeting, and then expected not to be confronted by other nations over it, the officials said.
While it may be too late for Pyongyang to be barred from the ARF meeting this year, Thornton said Washington would continue to "push the organization to think about what kinds of suspension measures or requirements or stipulations might be included in the future."