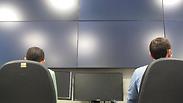 Shin Bet unit. Our professional and dedicated work is being used for populist spins (archives)
Photo: Shin Bet, courtesy of Israel Defense
Memoirs of a delusional and cowardly Shabaknik
Op-ed: Hundreds and thousands of 'disturbed' Shin Bet agents have been working day and night so that Coalition Chairman David Bitan would be able to serve as the prime minister's spokesman and Culture Minister Miri Regev would be able to travel abroad with her Temple Mount dress as a cowardly bodyguard watches over her.
I'm a coward and delusional Shabaknik, and that's my source of pride. I dedicated 25 years of my life to security activity in the West Bank and to the prevention of terror. All this time, I was filled with delusional fear. I was afraid of another act of terror, I was afraid that innocent Israelis would get killed or injured, I trembled after every terror attack that took place in the area I was responsible for, because I knew it would be followed by another attack if I failed to stop the terrorists.

This fear prompted me to carry out arrests at night in the dark alleys of the Nablus Kasbah, Hebron's crowded and busy streets, or chase terrorist cells in the Balata and Dheisheh refugee camps. This delusional fear made me risk my life, neglect my children in the most beautiful years of their lives and put all my efforts into an attempt to relieve that delusional fear.

This fear accompanied me on tumultuous days and on calm days, on holidays and on weekdays, on vacations and during family meals.

That delusional fear kept troubling me and I couldn't sleep at night. And it was all so that the children of Israel, including Coalition Chairman David Bitan and Culture Minister Miri Regev, would be able to sleep calmly and peacefully, go to kindergarten and to school, have fun in playgrounds, live safely in their homes and plan their political future. It never even occurred to them that there was some coward walking around at night in dark and dangerous places in a delusional manner to create that security for them.

I'm not alone. Hundreds and thousands of "disturbed" Shabakniks work day and night to prevent their fear from being realized, God forbid, so that David Bitan would be able to serve as the prime minister's spokesman and Miri Regev would be able to travel abroad with her Temple Mount dress as a coward bodyguard watches over her.

We haven't always succeeded in preventing terror attacks, and it bothered us very much because failure means victory for terror. We made mistakes, and I believe that today's Shabakniks make mistakes too, but those mistakes come from the sacredness of the mission rather than from cheap political interest. And I hope I'm not desecrating the memory of all those "delusional cowards" who were murdered on the job while trying to defend the regular and normal way of life in the country.

It takes a lot of arrogance to disregard such a special community, which does such professional work with modesty and real love for this country. It takes a lot of insolence and audacity to disparage millions of hours of studying, collecting intelligence and processing information to an almost exact science. It takes a lot of stupidity and malice for a person who understands nothing about the Shin Bet's work to issue despicable statements at the expense of those who make it possible for him to lead a normal life with their devoted care.

It's a shame I have to talk to you and to your likes through the newspaper. I would gladly take you on a tour of the Shin Bet's different departments and show you what really goes on there. But both you and I know that such a tour won't produce any headlines about you in the press, so I'm sure you'll choose to do without it.

The Book of Proverbs says, "Happy is the person who is never without fear, but he who hardens his heart will fall into misfortune." I am happy and so are all the delusional cowards who are engaged day and night in protecting Israel's security. It's disappointing to know that our professional and dedicated work is being used for populist spins.

Haim Manor-Mina is a retired senior Shin Bet officer.