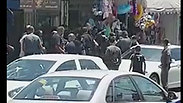 Police arrest brother of Jaffa suspect killed during chase
Hundreds riot and protest in Jaffa after police arrest the brother of a suspect killed by police last week after fleeing arrest in connection to an earlier shooting; suspect wanted in connection with attacks against police and property throughout city.
Over three hundred protestors demonstrated Thursday evening in Jaffa following the arrest of the brother of Mahdi Saadi, who was killed last week by police while fleeing arrest after being wanted in connection for an earlier shooting in the city.

Police issued a statement saying that the suspect was detained after a group of Jaffa residents attacked officers stationed on Yefet Street.

Police detain suspect

Officers arrested the 20-year-old who is suspected to have led several attacks on police and property throughout the city since his brother Mahdi was killed last week.




Since the young man's death, riots and unrest have spread throughout Jaffa, with protestors burning vehicles, attacking police and destroying property throughout the city.

The head of the northern branch of the Islamic Movement, Sheikh Raed Salah, visited the Saadi family last Monday and strongly condemned police, saying, "They publicly executed him, there is no justice. Whatever their claims, this behavior is unacceptable. We will not accept this injustice."