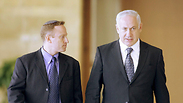 Harow and Netanyahu
Photo: Alex Kolomoisky
Police flip former PM confidant into state witness
As police compile evidence against prime minister in his alleged embroilment in numerous scandals involving bribery, Ari Harow, a former chief of staff and close confidant to Netanyahu, agrees to testify against his former boss in return for scrapping a likely prison sentence for a string of past corruption allegations.
A deal was signed with Prime Minister Benjamin Netanyahu's former chief of staff and confidant Ari Harow Friday which will see him become a state witness in a string of ongoing investigations against Netanyahu involving alleged corruption and bribery.

According to the details of the deal, Harow—himself facing charges of bribery, breach of trust, conflict of interest and fraudulently obtaining benefits—made his testimony conditional upon mitigating a punishment that would have entailed a prison sentence.

Harnessing that leverage against him, police managed to pressure Harow into accepting a deal according to which he will be convicted of breach of trust, serve a community service sentence lasting half a year—rather than prison sentence—and pay a fine of NIS 700,000.

"The witness will provide all information in his possession, the majority of which has been presented before the prosecution," a statement read by the Israel Police.

"In exchange, the state will agree—as part of a separate case in which the witness is being investigated and in which the state intends have him stand trial—that the witness will confess to the charges leveled against him and will be convicted of fraud and breach of trust."

On Thursday, the police informed the courts that it was seeking to extend the gag order on the multiple probes involving bribery offences, according to which Netanyahu is suspected of receiving illicit gifts from rich donors (the so-called Case 1000) and holding talks with Yedioth Ahronoth owner Arnon Mozes on receiving more favorable coverage in return for promoting legislation against Yedioth's rival newspaper Israel Hayom (the so-called Case 2000).

A gag order was placed on other details pertaining to the deal struck with Harow regarding Cases 1000 and 2000.

According to senior figures in the police force, Harow was privy to sensitive and crucial information pertaining to more than one of the probes.

Harow could provide police with information on the prime minister's ties with the wealthy donors in the center of the affair—American billionaire Arnon Milchan and Australian billionaire James Packer.

Furthermore, police believe Harow was privy to key details regarding Case 2000 and the Submarine Affair (the so-called Case 3000) in which Netanyahu is suspected of having direct involvement in the purchasing of submarines involving a tender bias in favor of German conglomerate thyssenKrupp.

In Case 2000, Harow was the one who recorded Netanyahu and Mozes's conversations on his cellphone and was present at the meetings and could provide information on that as well.