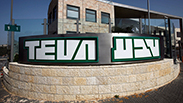 Israeli pharmaceutical giant Teva's shares continude their downward spiral, dropping 24.2% on Wall Street on Thursday, reaching $23.8 per share.

This is a 13-year low for the once solid stock. The drop is due to the company's dramatic quarterly reports, which stated a huge write-down of $ 6.1 billion, layoffs of thousands of employees and a diminished forecast.

The negative trend continued for Teva on Friday.

The Dow Jones Industrial Average fell 0.4% on Thursday, and the S & P 500 shed 0.2%, while the Dow Jones Industrial Average rose by less than 0.1% but ended at a new record, with a rise recorded for eight days straight. The last time such a trend was recorded was on February 27th, when there was an increase for 12 trading days straight.