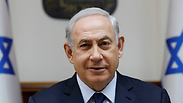 Netanyahu calls former Chief of staff's witness deal 'background noise'
PM Netanyahu responds for 1st time to witness deal struck with his former chief of staff Harrow, with Harow expected to testify against Netanyahu; speaking on camera to the people of Israel, Netanyahu says: 'I don't pay attention to background noise. I continue to work for you.'
A few hours after Prime Minister Benjamin Netanyahu's former chief of staff, Ari Harow, signed a witness deal with the state, Netanyahu posted a video of himself on his Facebook page, in which he responded for the first time to the witness deal.
Follow Ynetnews on Facebook and Twitter
"It's impossible (not to mention—ed) the affair of the week," said Netanyahu in the tailend of his video, after mentioning several security and diplomatic developments of the past week. "And so I want to tell you, the citizens of Israel: I don't pay attention to background noise. I continue to work for you."
During the video, Netanyahu appeared to want to convey business as usual. He began by mentioning the victim of a stabbing terrorist attack in Yavne, who has since stablized. "I wish to send my best wishes for a speedy recovery to Niv Nehemiah. Niv fought valiantly against the terrorist in Yavne, and yesterday I sent the state secretary to visit him and his family. Niv, we're all praying for you."
Netnayahu also mentioned his participation in the ceremony celebrating a new neighborhood in the settlement of Beitar Illit this week, in addition to building a new settlement for the evacuees of Amona. "We are very excited and are continuing to build the settlement of Amichai for the evacuees of Amona," said Netanyahu.
Finally, Netanyahu mentioned an announcement made Wednesday by the African country of Cape Verde, that it will not be voting against Israel in the United Nations. The announcement came following a meeting that took place between Netanyahu and Cape Verde's President Jorge Carlos Fonseca, who instructed his envoy in the UN no longer vote against Israel. "This is the result of intensive diplomatic activities by Israel in Africa," said Netnayahu on Fonseca's decision.
Earlier on Friday, it was announced that a deal was signed between the state and Harow, which will see him become a state witness in a string of ongoing investigations against Netanyahu involving alleged corruption and bribery.
According to the details of the deal, Harow—himself facing charges of bribery, breach of trust, conflict of interest and fraudulently obtaining benefits—made his testimony conditional upon mitigating a punishment that would have entailed a prison sentence.
Harnessing that leverage against him, police managed to pressure Harow into accepting a deal according to which he will be convicted of breach of trust, serve a community service sentence lasting half a year—rather than prison sentence—and pay a fine of NIS 700,000.
"The witness will provide all information in his possession, the majority of which has been presented before the prosecution," a statement read by the Israel Police.
"In exchange, the state will agree—as part of a separate case in which the witness is being investigated and in which the state intends have him stand trial—that the witness will confess to the charges leveled against him and will be convicted of fraud and breach of trust."
A gag order was placed on other details pertaining to the deal struck with Harow regarding Cases 1000 and 2000.