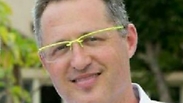 An Israel Air Force Apache pilot was killed and his co-pilot was seriously injured when the helicopter crashed on Monday night at the Ramon Air Base.
Near 9pm, an A-model Apache helicopter from the IAF's Magic Touch Squadron was returning to base from a routine training flight when it encountered a technical malfunction.
The pilots reported the malfunction to the control tower and continued approaching for landing. Shortly after that, the helicopter crashed between the two runways in the base.
Maj. (res.) David (Dudi) Zohar, 43, from Haifa, was killed in the crash. His co-pilot, a lieutenant, was seriously injured.
The lieutenant was rushed to the Soroka Medical Center in Be'er Sheva, where he underwent surgery overnight and remains in serious condition.
The IAF grounded its combat helicopters fleet following the crash pending an investigation.
IAF Commander Maj. Gen. Amir Eshel was at the Air Force's central headquarters in the Kirya base in Tel Aviv to monitor the situation as it was ongoing. He ordered the formation of a team of experts to investigate the crash.
The investigation is being led by Col. A., an aircrew instructor at the IAF's Command & Staff School and the former commander of a helicopter squadron.
The head of the IAF's Equipment Group arrived at the scene shortly after the accident to gather evidence that survived the crash.
The initial investigation found no connection between the technical malfunction the helicopter experienced and the crack recently discovered in the posterior rotor blade of one of the IAF's Apache helicopters during a routine check-up, which led to the grounding of two squadrons in June.
While the Air Force is examining all lines of inquiry, it appears technical failure in the operations of the helicopter's back rotor was the main factor that caused the crash. Investigators are now checking whether the technical failure originated in the steering or the propulsion system.
Representatives from the Apache's American manufacturer Boeing are expected to join the investigation at a later stage.
According to IDF Spokesperson Brig. Gen. Ronen Manelis, the training flight was part of a gradual process to return the Apache fleet to service after being grounded.
Due to a history of helicopter accidents, the Air Force has strict safety procedures in place. Last month, IAF Commander Eshel ordered to hold a study day in all squadrons as a preventative measure to emphasize the issue of safety weak points in flight. IDF Spokesman Manelis said the decision was made after several safety incidents have occurred.
In March 2013, two Cobra helicopter reserve pilots—Lt. Col. Noam Ron and Maj. Erez Flexer—were killed in a crash in the Revadim area, south of Gedera. In September 2008, two pilots were killed in a Cobra helicopter crash in the fields of Kibbutz Ginegar in the Jezreel Valley.