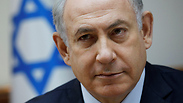 Prime Minister Netanyahu. Blinded by power
Photo: Reuters
Regardless of our political opinion, the things being published about Prime Minister Benjamin Netanyahu should hurt us on the national level. Because in the State of Israel, barely one percent of the citizens—a handful—are interrogated by the police. And in that same Israel, for the past two decades, all prime ministers have been questioned by the police as suspects as part of criminal investigations.

Netanyahu has received massive doses of hatred. It's fine that the media are critical and snappish, but lines have been crossed too many times. Netanyahu has been treated much more severely than others. Moreover, Netanyahu hasn't deteriorated the country anywhere. He has an impressive list of accomplishments. Contrary to the nonsense claims, democracy is functioning and Israel has become popular in more and more countries. These achievements have his name on them. Netanyahu did it his way—and he did it quite well.

He's a rightist and a capitalist, and the attempt to turn him into a socialist white dove was pathetic. He was elected to implement his policy, not Shelly Yachimovich's policy. When I criticized him for leading Israel towards one big state, it was primarily because he didn't keep his word. He clarified that he was against one state, but this state is being created under his government.

I've had conversations with him here and there. There aren't many people of his caliber. Netanyahu is a fascinating interlocutor, with amazing knowledge even in areas you wouldn't expect him to be proficient in. A French billionaire, Arnaud Mimran, said he paid him because he was a fascinating person. It's unclear whether he actually paid, but it makes sense.

This talented man should have led Israel and himself to much better and higher places. He has proved he can do it. He didn't hesitate, for example, to be a very unpopular finance minister. He did what he thought was right to save Israel from a crisis and wasn't afraid of a face-off with the Haredi sector. He insisted and he implemented. There's no need to be an ardent supporter of his policy to appreciate the leadership he demonstrated.

Netanyahu has always been a hedonist, but his appetite grew. He was called "Bibi the King of Israel" and "the magician," and he believed it. And so, the first Netanyahu turned into the second Netanyahu. Time and again, the personal interest came before the national interest. He found it convenient to give in to the Haredim in the conversion and Western Wall issues. It's not corruption, it's cynicism, because there was no need for this concession. The Haredim wouldn't have left the government. Was someone waiting for them? Netanyahu created a deep, unnecessary and serious crisis with the US Jewry. He harmed Israel. Why? Because he was blinded by power. Because he could.

There's no doubt Netanyahu has cracked the genetic code of some Israelis, just like he has become increasingly detested by others. It's doesn't matter if he's indicted or not. What matters more is that it's already clear his surroundings have become completely corrupt. He was at the center of attention but didn't know anything? He has eyes but he can't see? He has ears but he can't hear? Was he excluded by attorney David Shimron?

There may be no proof, according to the law of evidence, that Netanyahu knew his confidant was linked to one of Israel's strategic purchase deals, but according to the laws of common sense, that's completely unreasonable. The claim that Communications Ministry Director-General Shlomo Fiber benefitted Netanyahu's friend without the prime minister's knowledge is an insult to our intelligence too. And for dessert, we have Ari Harow, who has turned the "there will be nothing" chant into satire.

Netanyahu's decline is a blow to Israel. There's a different Netanyahu too. But the moment the first Netanyahu was replaced by the second Netanyahu, he both harmed Israel and became the architect of his own downfall.