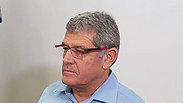 Miki Ganor
Photo: Raanan Ben Zur
State witness Miki Ganor is believed to possess incriminating recordings and text messages indicating that several other suspects in the submarine affair are implicated in the bribery scandal.

Ganor, who has been under house arrest, is expected to turn over all evidence to police indicating criminal connections with other senior government officials and public figures.

Police even noted, "He is providing us excellent material."

Several of the suspects in the affair claimed that they had not signed agreements with Ganor related to several transactions in which bribery was suspected.

Their claims appear to carry some amount of truth as investigators discovered that Ganor had indeed prepared contracts, but the suspects had not signed them. However, Ganor did make sure to document all meetings and discussions with David Shimron—Prime Minister Benjamin Netanyahu's lawyer—and former Navy Commander Eliezer Marom.

According to the terms of Ganor's agreement with the government, he will testify to all the offenses he committed over the years while working with defense officials, including transactions with public officials.

Ganor will pay a fine of NIS 10 million and serve a reduced prison sentence of one year.