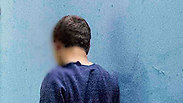 Suspect Michael Kadar
Photo: AFP
An Israeli teenager accused of a wave of bomb threats against dozens of Jewish community centers advertised his services on a now-shuttered online black market, offering to threaten any school for $30, according to US authorities.

Recently unsealed court documents suggest that Michael Kadar, 18, may have had at least one satisfied customer after posting on AlphaBay, the illicit "dark web" marketplace that the US Justice Department shut down in July.


Prosecutors said federal and local law enforcement in California have identified a co-conspirator after searching AlphaBay accounts and "intend to pursue criminal charges against that suspect."

Kadar, who is Jewish, was arrested in Israel in March and is awaiting trial there. US and Israeli authorities have charged him with making thousands of threats, including to airports, schools and Jewish centers in the United States.

Israeli authorities previously accused him of earning about $240,000 worth of the digital currency Bitcoin after selling his threat services on the dark web.

The hoax threats to the Jewish community centers, which forced widespread evacuations earlier this year, prompted many centers to enhance security and raised fears of a resurgence in anti-Semitism.

Following Kadar's arrest, the FBI sought a warrant to search an AlphaBay account under the name "Darknet_Legend," which they connected to Kadar after examining his laptop, according to the unsealed court filings.

Kadar's advertisement indicated he would frame someone else for any bomb threat he made for an additional $15 surcharge and said he would offer a full refund for "non-successful threats."

One user posted feedback for Darknet_Legend on March 9, writing, "Amazing on time and on target. We got evacuated and got the day cut short."

Federal agents said in court papers that the message came a day after Rancho Cotate High School in Rohnert Park, California, was evacuated due to an emailed bomb threat that was identical in wording to other threats linked to Kadar.

US law enforcement officials said in July they and international partners had closed down AlphaBay, a leading marketplace for drug and firearm trafficking, computer hacking tools and other illegal goods and services.

Kadar's parents have said he has a brain tumor that caused autism and other mental problems, making him unable to understand the nature of his actions.

The investigation previously led to one conviction. Juan Thompson, a disgraced journalist, pleaded guilty in June to making several threats to Jewish agencies while posing as an ex-girlfriend in an effort to harm her.