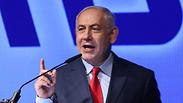 Netanyahu at the rally in Tel Aviv
Surrounded by supporters in a rally organized by his close confidant MK David Bitan, Prime Minister Benjamin Netanyahu slammed the media and the left wing on Wednesday evening, accusing them of trying to "overthrow" him.
Netanyahu, who is plagued by two criminal investigations against him and others against his his wife and close associates, was warmly welcomed by some 2,000 Likud supporters, including many of the party's ministers and MKs who attended following threats by rally architect Bitan he would "settle the score with them in the primaries." Some of the Likud officials even phoned activists themselves, asking them to come and offering transportation services.
Delivering the keynote address at the event, which was organized at his request, the prime minister accused unnamed others of trying to bring down his government in undemocratic ways.
"They know that they can't beat us at the polls, so they try to bypass democracy and topple us without elections," he said. "This is not without reason. They know we've come out as winners time after time in the elections, because we were the ones who put Israel in the best position in its history."

Netanyahu later elaborated on his specific grievances with the media, accusing it of "pumping fake news" against him into its outlets. Labelling it a "Junta operating 24/7," he went on to denounce it for allegedly trying to overthrow him.
"Both the Left and the media know Israel's situation hasn't been better, so they come together for an obsessive hunt against me and my family in an attempt to stage a coup, to exert intense and incessant pressure for an indictment to be filed," he charged.
The prime minister also accused the media of using "fictitious corruption accusations" before. "In 1992, they managed to topple Yitzhak Shamir by falsely accusing him of being 'corrupt,' and then they brought us the Oslo disaster and buses exploding," he asserted.
"In 1999, they repeated the same trick, which brought us the second intifada and more than 1,000 dead Israelis. And now they are trying to repeat it for the third time, only more intensely, and not just with me, but with my wife," Netanyahu continued, charging that the media fails to report Mrs. Netanyahu's work with "sick families, Holocaust survivors, cancer-sick children and lone soldiers."
"Instead, they prefer to deal with truly important matters, such as the proper procedure for replacing a light bulb, food deliveries (referring to an NIS 11,000 bill Sara Netanyahu submitted for food deliveries), and the cup of tea given to her father—that 97-year-old righteous man who was on his deathbed. What a disgrace. Morning and evening, they print explosive headlines, new details, dramatic developments. Let me tell you, there are rumors that have reached me, that the media will soon demand Kaya (the Netanyahus' dog) be summoned for questioning," he said mockingly.
Netanyahu also referenced former prime minister Ehud Barak, though without mentioning him by name. "How did that old man with a new beard put it? He was once prime minister for a short time, not one of the most successful ones: 'The political tsunami is on its way.' What tsunami, what isolation, what nonsense," chuckled Netanyahu. "The State of Israel is in an unprecedented political boom. "
He also referred to statements made by senior Palestinian officials, who said they were hoping for his downfall. "They want Israel to withdraw to the '67 lines and establish a Palestinian state on the outskirts of Kfar Saba. My friends, they too will be disappointed, because that will not happen.
"If the Left wants to fight us on its political and economic views, let them do it at the polls. God willing, in the next elections we will get not 30 seats, but 40."


Many support posters were put up at the Tel Aviv Contentions Center, where the rally was held, with such slogans as "Love Netanyahu, protect democracy," "It's not fake news, it's f***ing news," and "The people elected, the Left doesn't let up."
A song with lyrics like "There is no one like you in the world, Bibi, and everyone loves you" was played on the PA system.
Likud activists at the rally called out to the media: "Here are the leftists, the investigations are because of them," "Bibi, King of Israel, alive and well," and "There is nothing, there was nothing."
However, not all in the Likud party were in favor of the rally. Gil Shmueli, chairman of a Likud-affiliated movement and a member of the Jabotinsky Institute, for example, issued a statement distancing his organizations from Netanyahu.
"Whoever lines up behind corruption, seemingly, or defends corruption, has no place in Likud. We don't know what happened or what will be. The matter is being investigated and checked," Shmueli said.
"We only know that every support rally that looks like a robotic rally, as a kind of masquerade ball, has no precedent in the Likud and it should not take place at all," he continued.
"Because what exactly is the rally against? Is it against the police? The State Attorney's Office? We have full confidence in the legal authorities and that is why every event like this is, in my opinion, embarrassing."
At the other end of the spectrum was Likud's Director of Communications Eli Hazan. "We are facing a witch hunt against Netanyahu. And we are going in order to support him," Hazan explained.
"It isn't only Netanyahu who stands at risk. We also do, because it is us in this case. Netanyahu is the last barrier against the Left."