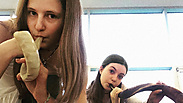 A picture with a statement
Photo: Miriam Handel
From Poland to Uruguay: Jewish identity in pictures
At a time when Jewish identity has become a source of anti-Semitic and political persecution around the world, 100 teenagers from three different continents participate in a photo competition with pictures reflecting their connection to the Jewish people. The result is a beautiful exhibition of 25 selected projects displayed at the Beit Hatfutsot museum in Tel Aviv.
A teenage boy reading the Torah at a summer camp in Panama, two teenage girls blowing a shofar in Houston, Texas, and a bat mitzvah at the Hebrew school in Chile—these are just a few of the daily Jewish experiences documented by 100 teenagers from three different continents as part of the Jewish Lens photo competition. The result is a beautiful exhibition of 25 selected projects, which was inaugurated last weekend at Beit Hatfutsot—The Museum of the Jewish People in Tel Aviv.

The exhibition, which is a joint initiative of the museum and photographer Zion Ozeri, reveals how Jewish youth around the world perceive their Jewishness.

Rabbi Talia Avnon-Benveniste, director of the Koret International School for Jewish Peoplehood Studies (ISJPS) at Beit Hatfutsot, says she wanted to enlist the smartphone and youth's tendency to take pictures of everything to manifest their Jewish belonging: "How are they part of the people? In what sense?"

She received many diverse answers: Some 100 photographs were submitted to the competition, and the 25 selected ones, she says, point to "teenagers who focus on the family, the different generations, the items on the book shelf, the youth movement, the synagogue. Each with their personal point of view, but together we see an abundance and diversity of Jewish identity in the 21st century, as reflected in the eyes of teenagers."
'Shofar selfie'
One of the teens who used their cellphone to document their Jewish identity was Miriam Handel of Texas. "We are used to seeing this situation in so many pictures of youth who feel like posing for the camera, and here there may be a call for some form of subversion. It's a penetrating picture. They are looking straight at the camera and blowing a shofar, appropriating a role that used to belong to men until now, with a lot of pride and joy," Avnon-Benveniste says.

"I find the picture of a girl being blessed with hands on her head very moving," Avnon-Benveniste adds. "You see here a ceremony of a girl who feels very blessed—both for being Jewish and for being at the center of a community—receiving a blessing for her bat mitzvah, or for Shabbat, and she feels close to the people around her. I see it as a very beautiful choice of a girl who says, 'I feel blessed to be Jewish.'"

Another picture that made the exhibition was taken in Chicago and given the name "And These Words." According to Avnon-Benveniste, "This picture looks inwards. We can't actually see who is behind those hands, but we see the holy moment in which a person who could be a man or a woman, a boy or a girl, prays and reads ancient verses, seeking a moment of peace, of giving thanks, of introspection in the Jewish world of prayer."
A reason to look forward with hope
The competition was launched at quite a difficult time for Jewish communities around the world, when Jewish identity has become a source of anti-Semitic and political persecution.

Avnon-Benveniste believes the differences between the situations of communities in Europe and in North America make it difficult to receive a comprehensive answer on how to deal with these hardships. The message, however, remains clear.

"Our challenge as a nation is to ensure that when young Jews look forward at the Jewish world, it will be out of hope rather than—God forbid—out of fear or conflict, as happened in different periods in history. Our challenge is to march as individuals, as families, as communities and factions side by side, and say: 'It doesn't matter what we're going through—be it an external or internal threat—we'll get through it together, out of joy and excitement about the future, rather than out of fear of what will happen," she says.

"I hear people from all around the world answering the question 'what makes you part of the Jewish people?' and there are always plenty of different answers. So it's a great privilege to be dealing with these issues," Avnon-Benveniste adds. "I'm always very excited by the depth they ascribe to questions of identity, how much respect youth have for their family members, their parents, their grandparents. We see it in each and every picture."

"When you browse through the pictures, one by one, you see how personal the connections are, yet they sit on some kind of sequence of the people's identity, which is diverse but outlined. At the end of the day, this nation has a Jewish identity that is clear to all those who are part of the Jewish story," she concludes.