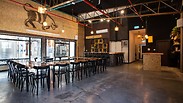 Milk and Honey Distillery visitor center
In an unassuming building in the heart of hip and gritty south Tel Aviv, a young distillery is hours away from auctioning off a batch of what it calls the first Israeli-made single malt whisky.

And of course it's kosher.

The distillery is unloading its first "experimental series" of the spirit, aged only three years, by offering 100 bottles in an online auction and another 291 bottles are being sold locally.

All this seems a bit atypical for Israel, where wineries dominate the market, attracting foreign customers for decades, and microbreweries have now taken off.

But the start-up, called Milk & Honey, is hoping to capitalize on a global renaissance among whisky aficionados.

"There is a huge demand now for a store, for a different kind of products from different locations and climates," said company CEO Eitan Attir.

And though all this is a first for Israel, Attir said nature had presented Israel with some advantages.

The country, for example, has a hot and humid climate which he said speeds up the whisky's maturation. It matures as much as two and half times faster than Scotch, the company says.