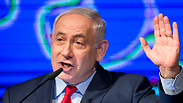 A letter to the PM: stop the media incitement now
Op-ed: Sir, your assault on the media is leading to violent threats against journalists whose only offence is to expose facts. It's only a matter of time before these threats are implemented. This is not Russia, or the Phillipines. Please, stop your incitement before it's too late.
The time has come. It is just a matter of time now. When the gun of incitement appears in the first act, it will be shot in the third act. We are now approaching the conclusion of the first act, and perhaps even the second.

Yesterday an implicit threat was made against the family of the journalist Guy Peleg, who over the last few months, has exposed more and more details of the investigation against Prime Minister Benjamin Netanyahu.

Six days ago, a Filipino journalist and former police investigator named Leo Diaz, who exposed corruption cases, was murdered. He was a thorn in the side of the regime. He was the third journalist to be murdered within one week.

We are not there yet, but if we continue on this path of incitement against the media, if journalists become comparable to a poisonous spider that should be killed at a support rally for Netanyahu, it isn't only the journalists who are facing a problem.

Two days ago, it was the prime minister who, basking in his glory, who published a fraudulent tape of a conversation between an impressionist and journalist Amnon Abramovich. Fake news, the prime minister branded it.

Netanyahu knows that Abramovich himself has already been repeatedly attacked, not because he is a national enemy, but because that is how he has been labelled. It is legitimate to criticize him, just as it is to criticize any journalist. But when the journalists are physically attacked, and Netanyahu supplies more oil to the machinery of incitement, it is he who is responsible.

Just as he gave journalist Ilana Dayan the appellation of an "extreme leftists." Just as he made accusations against the Left and the media that they are trying to remove him from the government even though all the people conducting the investigations against him are from his own coterie. He appointed them.

But in order strike fear into them—people like Roni Alsheikh and Avi Mandelblit—he adopted the most perverse path of all: namely, incitement against the media.

Mr. Prime Minister, stop. Enough. I hope, like the majority of Israeli citizens, that it will emerge that "there was nothing" (to the investigation suspicions—ed.) But in the meantime, Peleg and Dayan and Abramovich are doing exactly what they need to do and must do.

They can be criticized. I myself have done this on more than one occasion. But you are not the one to criticize the media. You should not criticize it at all. You are the prime minister and one of your lawyers is personally involved in a huge strategic deal and another lawyer—who happens to be his partner—is advancing the deal on your behalf. In totalitarian societies this would be silenced. In democratic countries, this needs to be exposed.

What kind of country do you want us to live in? Anyone who threatens Peleg's family or turns him into a poisonous spider that needs to be squashed is your disciplined capo. You are the origin of that.

Allow me to remind you that Peleg has also exposed matters that were not pleasant about owners of newspapers, of this newspaper. But no one in these pages, in this newspaper, undermined his right to do so because he has a duty to shed light on things.

Israel, I have written again and again, is not Turkey where journalists are arrested and it is not Russia or the Philippines where journalists are murdered. Not yet anyway.

When the media unjustifiably attacked you, I was one of the people who defended you because the media is not immune from criticism.

The media is not inventing or leading anything. It isn't creating cases or probes. It is merely exposing and reporting that which is taking place.

In any event, the media does not speak with one voice. There are many voices. Even in this newspaper there are a variety of voices. But there is one thing on which all journalist can agree, from the north to the south, from the east to the west, from the Right to the Left:

The day that Peleg becomes too afraid to publish something is the day that the countdown begins. Israel will not be in a position to call itself "the only democratic country in the Middle East" anymore.

Mr. Prime Minister, over the last few days I have spoken to extremely senior Likud officials. They are afraid, extremely afraid. I have spoken time and again with Likud supporters. The rally of incitement against the media was a misrepresentation.

Many of them, people from the Right, view this theatrical display with disgust and abhorrence. But we all know there is no need for the majority of Likudniks to move from the stage of incitement to the stage of physical harm for the latter to actually take place. It only takes an agitated crowd, a minority on the Right, and only a few within it to move from talk to action. You must stop this incitement now because tomorrow, Mr. Prime Minister, it could be too late.