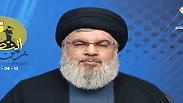 Hezbollah leader Hassan Nasrallah
Nasrallah threatens 'greater defeat' to Israel in future war
Claiming Hezbollah was 'not a terror organization, but rather a force fighting against terrorism,' Nasrallah says Israel puts its hope on Trump administration because it 'knows it cannot achieve its goals and eliminate the resistance with a military conflict.'
Hezbollah leader Hassan Nasrallah marked 11 years to the Second Lebanon War on Sunday with a speech in which he threatened that "the defeat Israel suffered in 2006, it will suffer again, but it will be a much greater defeat."

Israel, he said, failed to eliminate Hezbollah in the 2006 war. "Every time an Israeli official talks about Hezbollah becoming stronger, he actually admits Israel's defeat to Hezbollah," Nasrallah claimed.

Nasrallah argued that Israel recognized Hezbollah's strength, "an example of that is the evacuation of the ammonia tank in Haifa. We hope they examine moving the nuclear reactor in Dimona as well, as it is more dangerous and needs to be taken care of."

He noted since the 2006 Second Lebanon War, "there has been a new resistance in Lebanon that doesn't joke around, doesn't waste time, doesn't take an annual vacation. It works day and night, studying all of the developments, planning and examining its plans, training and arming itself in the best weapons it can obtain, because that is its natural right."

He said Israel was "putting its hopes on the Trump administration," because "the enemy knows it cannot achieve its goals and eliminate the resistance with a military conflict, and that the price of such a war would be too high. On the other hand, it cannot remain quiet as Hezbollah becomes stronger."

Israel, Nasrallah elaborated, wants the Trump administration "to put pressure on the Lebanese people, the Lebanese government and Hezbollah's friends and supporters. Everyone encounters pressure and threats."

This pressure comes in the form of financial sanctions put on Hezbollah and its supporters. US lawmakers last month introduced legislation seeking to increase sanctions on Hezbollah by further restricting its ability to raise money and recruit and by increasing pressure on banks that do business with it.

In response, Nasrallah said, "all that is required is not to surrender. I tell the American administration that it cannot—with all of its means—be able to damage the strength of the resistance, its determination, and its strengthening in Lebanon."

Nasrallah said Lebanon was being subjected to intimidation and threats over Hezbollah—which is part of the Beirut government but classified as a terrorist group by Washington—and alleged that Lebanese officials had been told that Israel could launch a war.

European and American officials had warned them "during diplomatic meetings and international visits ... if you don't do this, Israel will launch a war on Lebanon, and if Hezbollah doesn't do this, Israel will launch a war on Lebanon," Nasrallah said. He did not spell out what had been asked of Lebanon or Hezbollah.


He said terrorism "is done by America and Israel. Even Trump accused Obama and Clinton of creating ISIS. The only one fighting this terrorism in the region is Hezbollah, which is not a terror organization, but rather a force fighting against terrorism."

Nasrallah claimed that while "Hezbollah is an armed force of destruction, it's only against the Israeli plan."

This plan, he said, was to expand Israel's territory. "Hezbollah destroyed the 'Greater Israel' plan in 2000. The proof is that they're building fences on the Lebanon, Gaza and West Bank borders. Hezbollah, along with the Palestinian factions, put an end to the 'Greater Israel' plan—Hezbollah in 2006 and Hamas in 2014. Hezbollah and the 2006 war brought an end to Condoleezza Rice's 'New Middle East' plan," Nasrallah explained.

He further mocked Israel for complaining to the UN Security Council against a Hezbollah-funded environmental protection organization in Lebanon called Green Without Borders, which Israel says the terror organization uses to set up observation points along the Israel-Lebanon border.

"Israel is turning to the UN over the fact Lebanon is planting trees on the border," Nasrallah said. "Israel is afraid of the tree on our border, because it thinks this tree is guarding the country and the people. Israel thinks the tree will protect the people who will fight against it when it attacks."

"I tell the residents of the south in Baalbek, in Hermel are other places: Plant trees. It's part of the resistance, part of the defense of Lebanon," he added mockingly.

Nasrallah also advised the Lebanese government to normalize ties with Syrian President Bashar Assad's government.

"The world today has taken for granted that the administration will stay on," said Nasrallah on Syria.

Reuters and the Associated Press contributed to this report.