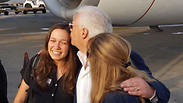 Talia Friedman, 23, daughter of US Ambassador to Israel, David Friedman, officially immigrated to Israel on Tuesday morning, together with 232 other new Israeli citizens.

Ambassador Friedman greeted his daughter when she disembarked at Ben Gurion Airport, saying, "We are so proud of her and love her very much; we only want her to be happy. She loves Israel and our whole family loves Israel."

Talia Friedman celebrates her immigration to Israel (צילום: איתמר אייכנר)

Friedman is a nurse and until now, has worked at a New York hospital. "I hope she will bring aid to those who need her here in Israel," said her father.

Ambassador Friedman added that Talia "always wanted to move to Israel. She is fulfilling her dream and the whole family is proud of her. We're here to welcome here, to hug her and wish her the best of luck in Israel."

Talia immigrated to Israel with the help of the Nefesh B'Nefesh organization, which promotes, encourages and facilitates Jewish immigration to Israel. She plans on making her home in Jerusalem.

Together with Friedman arrived 75 children, 21 families and 99 other young men and women, 72 of who will volunteer for IDF service as lone soldiers.