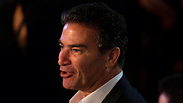 Prime Minister Benjamin Netanyahu is sending a security delegation to the United States that will include Mossad director Yossi Cohen.

American news site Axios reports that the delegation will arrive in Washington later in the week and will meet with National Security Advisor H.R. McMaster, his deputy Dina Powell, US Middle East envoy Jason Greenblatt and other senior officials.

According to the report, the meetings will not deal with renewing negotiations with the Palestinians, but rather the security situation in Syria and Lebanon.

President Trump's son-in-law and close advisor Jared Kushner, together with Greenblatt, helped organize the visit.

The visit comes after Netanyahu warned of Iran's expanding regional influence, particularly in Syria.

Following a briefing about security challenges facing Israel, Netanyahu said, "I'll give you a summary in one sentence—ISIS going out, Iran coming in. Simple. We're mostly talking about Syria.

"Our policy is clear: We firmly oppose to the military buildup of Iran and its proxies, primarily Hezbollah, in Syria. We will do whatever it takes to protect Israel's security," he stressed.