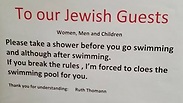 Sign at Swiss hotel directed to 'Jewish guests' draws scorn
Switzerland's tourism office decries sign at Paradies Arosa hotel that singles out Jewish guests in request to take a shower before entering the pool; ministry spokesman says this was an 'isolated incident,' adding, 'It's just this one lady at this one hotel who was not on top of the situation.'
Switzerland's tourism office on Tuesday decried an "unfortunate" incident in which a small Alpine hotel posted a sign asking "Jewish guests" to shower before swimming in the hotel pool.
The Simon Wiesenthal Center demanded the closure of the Paradies Arosa hotel in the eastern town of Arosa, and issued a statement on Tuesday calling on "the broader Jewish community and their Gentile friends to blacklist this horrific hotel." On Twitter, Israel's Deputy Foreign Minister Tzipi Hotovely called for "justice" against the hotel's management.
Officials said the hotel had apologized for the incident and taken the sign down.
Swiss Tourism spokesman Markus Berger called the sign unacceptable, adding: "It always needs to stay in perspective: This is one unfortunate incident."
Under "To our Jewish Guests," the sign read: "Please take a shower before you go swimming. If you break the rules, I am forced to cloes (sic) the swimming pool for you. Thank you for your understanding."
Tzipi Livni, a former Israeli foreign minister, posted an image of the sign on her Facebook page and wrote that "there can be no tolerance and no indifference" to anti-Semitism and racism, in comments that also alluded also to violence around a white supremacist rally in Virginia in the United States.
We "must not let there be a place in the free world for Nazi flags or Ku Klux Klan masks or ugly signs in hotels directed at Jews only," she wrote. "We cannot allow acts of hate against Jews around the world to become normal."
Hotel management did not immediately respond to an e-mail from The Associated Press seeking comment.
Berger cited a recent trend of Orthodox and other Jews traveling to four Alpine villages in the area in the summertime, including Davos. He said didn't know the origin of the trend, but that numbers "definitely in the thousands" have grown in recent years. He said many area hotels serve kosher food, and that Jewish guests "feel well-treated" there.
"It's just this one lady at this one hotel who was not on top of the situation," Berger said. "It's an isolated incident that doesn't need for greater action to be taken."
Switzerland's foreign ministry, responding to a request for comment from The Associated Press, said that it has been in touch with the Israeli ambassador and "outlined to him that Switzerland condemns racism, anti-Semitism and discrimination in any form. Switzerland has been strongly committed for years—as it is at the moment, for example, within its presidency for the International Holocaust Remembrance Alliance—to raise awareness to the dangers of racism, anti-Semitism and discrimination."