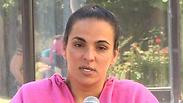 Tzipi Yaakobiyan
Photo: Gal Arbel
A crowdfunding campaign raised over NIS 1 million for police officer Tzipi Yaakobiyan, who was paralyzed as a result of a terror attack at the Damascus Gate in Jerusalem a year ago.

Yaakobiyan was working as a police officer at the Shalem police station in east Jerusalem. As she was making her way to work with a colleague one morning, terrorist Ayman al-Kurd attacked her and stabbed her in the neck.

Yaakobiyan spent several weeks in the hospital in serious condition in a medically induced coma. Upon recovering, she began the long and difficult rehabilitation process. She recently described the operations she had to undergo and the ramifications of the injury when testifying against her attacker. "I have no feeling in my legs, my back, and my chest. My hands are very weak," she said.

She was supposed to be discharged from the Hadassah Medical Center in Jerusalem's Mount Scopus two months ago, but she has been "stuck" there because the Defense Ministry has yet to find her an apartment that can meet her extensive needs.

Tzipi is wheelchair-bound and requires constant care and an accessible home with the proper facilities. Her home also has to be close to Hadassah Medical Center and the Jerusalem center for disabled veterans.

The few apartments that might be able to meet her needs cost about NIS 1 million more than the family can afford, even with the aid from the Defense Ministry.

When Uri Shechter, who heads the Shoreshim Department at the Tzohar organization, heard about Tzipi's story, he launched a campaign to raise the needed money. The campaign surpassed the NIS 1 million goal on Tuesday.

"This morning, one of the employees at the hospital came to see me, all smiling and happy, and showed me that we surpassed NIS 1 million. It's impossible to describe how I feel. We didn't believe we'd get there," Yaakobiyan said. "When we started the campaign, we knew our goal was high, we didn't expect to reach it because it seemed impossible. I'm really excited to learn we reached it."

She thanked all of those who "donated, promoted and supported (the campaign) along the way. Without knowing me and only hearing my story, they chose to give their support—this isn't something I take for granted. Thank you."

The campaign has a little over 24 hours left to go. "Every shekel that adds up is a shekel that will help us: in mortgage payments, in expenses—and there are a lot of expenses. We'll be happy with any help we get," she said.

Yaakobiyan and her family are now waiting for the Defense Ministry to transfer the funding for them to buy an accessible home, so she could finally leave the hospital.

Shechter, who started the campaign, said, "Putting politics aside, we once again discovered we have a wonderful nation that could be counted on. Now all we have left is to wish Tzipi, her husband and children good luck on their new journey. May it be as happy as possible."