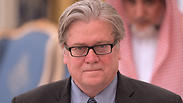 Controversial White House strategist Bannon out
Alt-right affiliated WH advisor Bannon has reportedly left his position, though statements vary on whether he was fired by Pres. Trump or resigned on his own; Democrats were outraged by Bannon's appointment following Trump's upset presidential win, calling Bannon a promoter of anti-Semitism, racism and misogyny who is backed by the Ku Klux Klan.
US President Donald Trump has fired his chief strategist Steve Bannon, a person familiar with the decision told Reuters on Friday.

A source close to Bannon said he was not expected to resign on his own. "Bannon is going to make them fire him," the source said. "He's not going to officially resign. He's still been doing the work. He's been working on projects."

The New York Times, however, cited a person close to Bannon as saying he had submitted his resignation on Aug. 7 and that it was to be announced this week, but had been delayed by the fallout from a rally by white nationalists in Virginia over the weekend.

Bannon damaged his standing by giving an interview to the liberal American Prospect this week in which he was seen to be undercutting Trump's position on North Korea.

Bannon told associates he thought he was talking to an academic and thought he was off the record.

A champion of economic nationalism and a political provocateur, Bannon, 63, is a former US Navy officer, Goldman Sachs investment banker and Hollywood movie producer.

Bannon also spearheaded Breitbart News website's shift into a forum for the "alternative right," a loose online confederation of neo-Nazis, white supremacists and anti-Semites.

Democrats were outraged by Bannon's appointment following Trump's upset presidential win, calling Bannon a promoter of anti-Semitism, racism and misogyny who is backed by the white supremacist group the Ku Klux Klan.

Following a 1996 domestic violence charge and subsequent divorce, Bannon's then-wife, Mary Louise Piccard, testified in court that Bannon allegedly did not want their twin daughters to attend a prestigious Los Angeles school because he didn't want them to go to school with Jews.

"It is easy to see why the KKK views Trump as their champion when Trump appoints one of the foremost peddlers of White Supremacist themes and rhetoric as his top aide," Adam, Jentleson, a spokesman for Senate Democratic leader Harry Reid, said in a statement after Bannon's appointment was announced last November.

Bannon's current ouster comes with Trump increasingly isolated over his comments in the aftermath of white supremacist violence in the Virginia college town of Charlottesville.

Trump said on Tuesday the anti-racist demonstrators were as responsible for the violence as the neo-Nazis and white supremacists who instigated the protests. On Thursday, he decried the removal in numerous cities of "beautiful" monuments to the pro-slavery Civil War Confederacy.

Those remarks sparked rebukes from fellow Republicans, top corporate executives and some close allies even as some supporters, including vice president Mike Pence, stood by Trump.

Under pressure from moderate Republicans to fire Bannon, Trump declined to publicly back him on Tuesday, although he left his options open. "We'll see what happens with Mr. Bannon," he told reporters at Trump Tower in New York.

Bannon had been in a precarious position before but Trump opted to keep him, in part because his chief strategist played a major role in his 2016 election victory and is backed by many of the president's most loyal rank-and-file supporters.

On July 28, Trump replaced his beleaguered White House chief of staff, Reince Priebus, installing retired General John Kelly in his place in a major shake-up of his top team. Trump then ousted White House communications chief Anthony Scaramucci on July 31 over an obscene tirade just 10 days after the president named him to the post. Scaramucci's hiring had prompted Sean Spicer, a Priebus ally, to abruptly resign as press secretary.