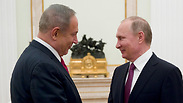 Netanyahu and Putin meet in Moscow
Photo: EPA
Prime Minister Benjamin Netanyahu is scheduled to meet with Russian President Vladimir Putin on Wednesday in the Russian resort city of Sochi to discuss the ceasefire agreement in Syria, which Israel opposes as it would serve to cement the presence of Iran and its Shiite proxies in the country.

This would be the sixth meeting between the two leaders over the past two years over Russia's involvement in the civil war in Syria.

The Prime Minister's Office said Putin and Netanyahu "will discuss the latest developments in the region."

"In the past two years Prime Minister Netanyahu has met with Russian President Putin every few months to discuss bilateral and regional issues and to prevent friction between the Israeli and Russian air forces in Syria, so far successfully," the statement by the PMO went on to say.

Russian Foreign Minister Sergey Lavrov has recently said Moscow would do whatever it could to take Israel's security interests in Syria into consideration.

In recent weeks, Israel has been holding talks with Russia and the United States in an effort to amend the upcoming agreement in a way that would minimize Iranian presence in Syria.

Netanyahu has discussed the matter several times over the phone with both Putin and US Secretary of State Rex Tillerson, while Israeli defense officials have also discussed the matter with their American counterparts in person.

An Israeli delegation led by Mossad Director Yossi Cohen held talks on the matter in Washington on Thursday with American teams led by US National Security Advisor H. R. McMaster and President Donald Trump's envoy to the Middle East Jason Greenblatt.

The Israeli delegation conveyed Jerusalem's concern that Iran plans to establish land, air and naval bases in Syria, warning this was a red line for Israel.