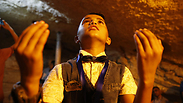 Child from Gaza
Photo: AFP
Gazan children visit Jerusalem for first time ever
UN-launched initiative brings 91 children from Gaza to Jerusalem to visit Islamic and Christian holy sites as part of exchange program intended to strengthen ties between the West Bank and the Hamas-run enclave: 'They were over-the-moon excited,' says organizer.'
Ninety-one Palestinian children from the Gaza Strip visited Jerusalem Sunday for the first time in their lives as part of a project organized by the United Nations Relief and Works Agency for Palestine Refugees in the Near East (UNRWA).

The children, all aged 14 paid a visit to two holy sites as part of an exchange program between youths from the strip and the West Bank. For 84 of the children this was the first time they have ever stepped foot outside Gaza.

Throughout the remainder of the week, the children are scheduled to continue their visit to the Palestinian Authority.

Scott Anderson, Director of UNRWA Operations in the West Bank said that the children also visited the Church of the Holy Sepulcher where Jesus Christ was crucified and buried, according to Christianity.

Thereafter, the children visited the al-Aqsa mosque where they prayed at the sites holy to Muslims and visited the Temple Mount where they took pictures and viewed the Dome of the Rock.

"They were over-the-moon excited. There's really no other way to describe it," said Anderson.

Gaza's residents, who live under the iron fist of Hamas's rule, are only allowed to enter Israel and its southern neighbor Egypt with permits.

As part of the exchange program, 38 children from the Palestinian Authority visited Gaza a few weeks ago and the UN is hoping to implement more similar visits in the future.

Israel, which conducts thorough security checks on anyone crossing into Israel from the enclave, granted 111 entry permits for children participating in a five-day summer camp.

During their visit to Israel and the West Bank, they trained with students, particularly those living in the area.

Like the children of Gaza, this is the first time that children have left the West Bank and participated in a summer camp in the strip at the initiative of UNRWA in a proclaimed bid to strengthen ties between the two territories.