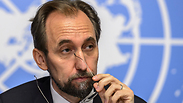 Prince Zeid bin Ra'ad Zeid al-Hussein
Photo: AFP
UN blacklist of companies doing business in settlements to be released by year's end
UN High Commissioner for Human Rights compiles database of firms doing business in settlements in the West Bank and east Jerusalem, as well as communities in the Golan Heights; Trump administration pressuring UN in effort to foil list's release.
The United Nations High Commissioner for Human Rights, Prince Zeid bin Ra'ad Zeid al-Hussein, plans to publish by the end of the year a blacklist of international companies doing business in Israeli settlements in the West Bank and east Jerusalem, as well as Israeli communities in the Golan Heights, The Washington Post reported on Monday.

The commissioner has already submitted a draft of the list to the countries these companies are based in, so they could give their responses by September 1.

According to the Post, there are several American companies on the list—including Caterpillar, TripAdvisor, Priceline and Airbnb—and the Trump administration is reportedly putting pressure on the UN not to release it.

Israel and the US strongly oppose the release of such a list and have been waging a long campaign to thwart its publication, saying this list serves as a prelude for boycotting Israel.

"These types of resolutions are counterproductive and do nothing to advance Israeli-Palestinian issues," said State Department spokeswoman Heather Nauert.

Israel's Ambassador to the UN Danny Danon called the list "an embarrassing move," as well as "an expression of modern anti-Semitism reminiscent of dark periods in history."

He went on to accuse the UN commissioner for human rights of becoming "the BDS Movement's most active member worldwide" who made it his goal "to harm the State of Israel instead of doing his job."

Danon called on the international community and the UN "to immediately stop this dangerous move."

During a UN Human Hights Council in June, US ambassador to the UN Nikki Haley slammed plans to compile such a database, calling it "shameful."

"Blacklisting companies without even looking at their employment practices or their contributions to local empowerment, but rather based entirely on their location in areas of conflict, is contrary to the laws of international trade and to any reasonable definition of human rights. It is an attempt to provide an international stamp of approval to the anti-Semitic BDS movement. It must be rejected," Haley said.