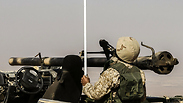 Lebanese soldier
Photo: AFP
The Lebanese military is now in control of over 80 percent of the areas previously held by the Islamic State group along the border with Syria, only days after launching a broad offensive there, a spokesman said Tuesday.

Brig. Gen. Ali Qanso told reporters that only 20 square kilometers (12 square miles) remain in the hands of the extremists. The US-backed Lebanese army launched its operation on Saturday and has since driven out the militants from some 100 square kilometers (62 square miles).

Qanso said no militants have been detained in the operation, adding that many were killed or retreated into Syria.

In an earlier statement, the army said a Lebanese de-miner was killed and four others wounded early Tuesday when explosives left behind by the extremists went off as they dismantled them.

Earlier Tuesday, the army announced it was starting the third phase of the operation, which includes mine clearing to open roads previously controlled by the militants.

The Syrian army and its ally, the Lebanese Hezbollah group, have launched a simultaneous operation to clear IS from the Syrian side of the border in the western Qalamoun mountain range. Hezbollah has been fighting in Syria alongside President Bashar Assad's forces since 2013.

Qanso didn't speculate when the border operation would end, but said the military has strong international support.

Lebanese officials insist the army is not coordinating its actions with the Syrian military, and Qanso said his forces would stop at the border. Lebanon's main political factions are sharply divided over the Syrian conflict, with some supporting and others opposing President Bashar Assad.

Lebanese media say the remaining IS-held territory along the border is riddled with caves that the militants could use as hideouts.

Residents of al-Qaa, a village near the border which was attacked by IS militants last year, took to the streets to celebrate news of the army advance. Al-Jadid TV station showed dozens of residents waving Lebanese flags as fireworks cracked above.