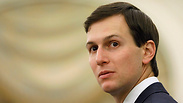 Jared Kushner
Photo: Reuters
Palestinians wait for US envoy Kushner to break his silence
Senior Palestinian official Ahmad Majdalani says President Abbas is still waiting for Kushner—charged with brokering peace between Israel and the Palestinians—to provide an answer on the Trump administration's position on Israeli West Bank construction and support for a two-state solution; 'We hope they bring clear answers this time.'
The Palestinians are waiting for some clear answers on key disputes with Israel from US envoy Jared Kushner when he returns to the region this week, a top Palestinian official said Tuesday.
The Palestinians have shown increasing signs of impatience in recent days, charging that after more than six months in office, President Donald Trump still has not laid out a clear vision for peace with Israel.
Ahmad Majdalani, a top aide to President Mahmoud Abbas, said the Palestinians asked Kushner for the US position on two key issues—Israeli construction in the West Bank and support for Palestinian independence—during his last visit to the region in June.
"Since then we didn't hear from them," he said Tuesday.
"We hope they bring clear answers this time," he added. "If not, then the peace process cannot be resumed because we cannot negotiate from scratch."
The Palestinians say they are seeking a freeze in Israeli construction in the disputed territory of the West Bank and a US endorsement of Palestinian independence as part of a "two-state solution" with Israel.
On Tuesday, Saudi Arabia's crown prince met senior US officials including Kushner in Jeddah and discussed efforts to bring about peace between the Israelis and Palestinians, Saudi state news agency SPA said.
Mohammed bin Salman also discussed ways to combat terrorist financing with Kushner, US President Donald Trump's son-in-law, as well as US negotiator Jason Greenblatt and deputy national security adviser Dina Powell, SPA said.
The two sides talked about seeking ways to reach "a real and lasting peace between Israelis and Palestinians" and ensuring stability in the wider Middle East and beyond, SPA said.
The White House announced the trip earlier this month, saying it was part of a regional tour including meetings with leaders from the United Arab Emirates, Qatar, Jordan, Egypt, Israel and the Palestinian Authority.
The US delegation would meet regional leaders to discuss a "path to substantive Israeli-Palestinian peace talks", a White House official said at the time.
The president went to Saudi Arabia and Israel during his first post-inauguration trip abroad and has expressed a personal commitment to reaching a deal that has eluded his Republican and Democratic predecessors.
Kushner, who is Trump's son-in-law, is expected to meet with Israeli and Palestinian officials on Thursday as he tries to restart talks. The last round broke down over three years ago. Israeli Prime Minister Benjamin Netanyahu's office had no comment on the upcoming visit, and there was no immediate reaction from a Kushner spokesman.
Trump has cast the elusive pursuit of peace between Israelis and Palestinians as the "ultimate deal." But he has given few indications of how he plans to reach it.
With his administration still coping with the fallout from his handling of the deadly violence in Charlottesville, Virginia, and Netanyahu facing a growing police investigation into possible bribery and corruption, the odds of any major breakthroughs on this trip may be low.
Trump has not explicitly endorsed the two-state solution and insisted during a joint press conference with Netanyahu in the US shortly after taking office that the Palestinians and Israelis could not be forced into an agreement by outside brokers. Moreover, he cast doubt on whether the two-state solution represented the best outcome to the conflict.
Nevertheless, during the same press conference, he asked Netanyahu to "pull back on settlements for a little bit," but didn't demand a freeze.
Trump has also backed away from a campaign pledge to move the US Embassy from Tel Aviv to Jerusalem. Israel had welcomed the promise, while the Palestinians strongly opposed it.