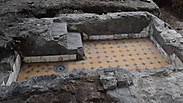 Part of a Mikveh uncovered
Photo: Jon Seligman
Ritual baths of Vilna's Great Synagogue uncovered
Following efforts by the Israel Antiquities Authority, Lithuanian Cultural Heritage Organization and Hartford University, the mikvehs of Great Synagogue of Vilna are uncovered—shedding light on lives of the city's the Jewish community, which was completely destroyed by the Nazis.
70 years after the destruction of the Holocaust, the mikvehs of the Great Synagogue of Vilna, the capital of Lithuania, were uncovered, so revealed the Israel Antiquities Authority (IAA) on Wednesday.

A joint delegation of Israeli, Lithuanian and American archaeologists uncovered in July the remains of two mikvehs, or ritual baths, which were used by the Jewish community in Vilna, under the ancient synagogue.




The mikvehs that were discovered revealed paved walls and floors, steps leading to the mikveh basin and an auxiliary water reservoir used to collect water for the mikveh, in order to make it kosher for purification.

In a study carried out last year, evidence was found of the existence of underground cavities, which led to the excavation of the site and the exposure of the ritual baths.

For the purpose of the study, they used the building's architectural plans, which were created in the late 19th century and preserved in the municipal archive of the Lithuanian capital. The bathhouse consisted of two main floors, many rooms and a large bathroom.

It is also possible to identify two installations identified by the researchers as mikveh, which served to direct the archaeological excavation.

"Most of the historical descriptions of the Great Synagogue in Vilna and the community hall (the Schulhof) dealt with the Great Synagogue and the surrounding chapels," explained Dr. Yohanan (Jon) Seligman of the IAA, who led the research. "Until now we had little information about the mikveh and the bathhouse of the Jewish community, which comprised almost half of the city's population."
A school on the ruins of the synagogue
The synagogue was built about four hundred years ago, between 1633 and 1635, in the Renaissance-Baroque style, and became the center of the spiritual life and community of Jews who settled in the city a few decades earlier.

The complex included the building of the community council, 12 synagogues and beth midrash, mikvehs, kosher meat stalls, as well as the beth midrash of the Gaon (genius) of Vilna, Rabbi Eliyahu ben Shlomo Zalman.

When the Nazis invaded Vilna in the 1940s, the Vilna community was totally destroyed, and with it the ancient synagogue, which was looted and burned. The Soviet authorities completely destroyed its remains after the war, and a modern school was built on its ruins.

In addition to Dr. Seligman, the study was led by Mantas Daubaras of the Lithuanian Cultural Heritage Organization and Prof. Richard Freund of Hartford University.

The researchers date the mikvehs to the beginning of the twentieth century, saying: "These discoveries add a new dimension to our understanding of the daily lives of the Jews of Vilna. They will certainly provide a new focus for understanding the lost cultural heritage of the Vilna Jewish community."