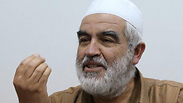 Sheikh Raed Salah
Photo: Motti Kimchi
The leader of the outlawed northern branch of the Islamic Movement, Sheikh Raed Salah, was charged Thursday afternoon with three counts of inciting terror and supporting an illegal association.

The indictment refers to remarks he made after the Temple Mount terror attack, some of which were part of a speech he'd given during the funerals of the three Israeli Arab terrorists who murdered two Israeli police officers.

The indictment details the comments Salah made that according to the state constitute incitement to terrorism.

On December 27, 2015, Salah made a speech in Baqa al-Gharbiyye in which he said the book The King's Torah allows the killing of Palestinian children in accordance with the "Israeli occupation that has declared war on Palestinian girls."

Salah then wrote a post on his Facebook page, which got over 1,700 views, 31 shares and 224 likes: "I tell our children, you are heroes... we will be happy to die as martyrs for you. Our children, for you we will be happy to go to prison. We were the generation of sacrifice and you, our children, are the general of control, Allah willing. We said al-Aqsa was in danger, and you, the children, will say al-Aqsa is victorious."

In another instance, on July 21, 2017, Salah delivered a sermon during Friday prayers in Umm al-Fahm to a crowd of hundreds of people. He praised the Murabitat, an outlawed Islamist movement funded by the northern branch of the Islamic Movement, for standing up to Israeli security forces at the Lions' Gate in Jerusalem.

"Until those moments, the Israeli occupation wounded 79 members of al-Aqsa's Mourabitoun (male members) and Mourabitat (female members), some in dangerous condition with head and chest wounds, whose pure blood was spilled," Salah said. "I ask Allah to welcome all of the martyrs from the al-Aqsa mosque today, including (the three terrorists who carried out the Temple Mount attack)."

Salah's sermon was uploaded to Facebook and got 574 views and 32 likes.

According to the indictment, "the accused made remarks of praise, sympathy or encouragement for a terrorist act, support of terrorism or identification with the terrorists. The content of the (sermon) and the circumstances in which it was made raise a real possibility it will prompt an act of terrorism."

On July 27, 2017, during the funeral of the three Temple Mount terrorists, Salah spoke in front of thousands of people: "Don't think those killed in the name of God are dead. No, they are alive and work for God. In these moments we shall pray to God to raise their status in paradise, and in moments like this we can only ask God, may He be praised, to forgive all in this prayer from the bottom of our hearts. In this high status in paradise, God honor them with drinking of water along with Prophet Muhammad, may He be praised, after which they will never be thirsty again."

A video of the sermon was posted online, getting 257 views and three likes.

A large police force arrived at the Mahajina neighborhood of Umm al-Fahm last week and arrested Salah following a joint investigation of the Israel Police and the Shin Bet, which was conducted at the behest of Attorney General Avichai Mandelblit.

Police reported that "on several different occasions—all of them taking place after the (Islamic Movement's) northern branch was outlawed—the inciter made public comments relating to the movement's worldviews, and some of his statements were published in the media as well. An examination of all the material raises suspicion (security) offenses were carried out and, as a result, an investigation was authorized."

Sheikh Salah conferring with his attorneys in court (צילום: מוטי קמחי)

"I told the investigators I teach at mosques, and I told them (my remarks) were Islamic insights we got from the Sunni Quran," Salah said after being remanded for the first time.

"You are not prosecuting me, you are prosecuting the Quran. What you're doing is an expression to the continued persecution of our public by the Israeli government. This is political persecution. This is an attempt to get the media to talk about my arrest," he added.

In January 2017 Raed Salah was released from prison after serving nine months following his conviction for inciting violence and racism in a sermon he delivered in east Jerusalem in 2007. Hundreds of Umm al-Fahm residents greeted him with celebrations and fireworks.

In November 2015, the Security Cabinet declared the northern branch of the Islamic Movement in Israel an illegal organization, particularly due to its connections to Hamas. This meant that the movement—led by Sheikh Raed Salah—was outlawed, any property belonging to the organization may be confiscated and anybody or person that either belongs to this organization, provides it with a service or operates on its behalf is committing a criminal offense and is subject to imprisonment.