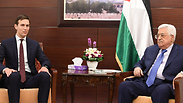 Kushner tells Abbas Trump is 'very optimistic and hopeful' for peace, but offers no tangible plan
Top Trump adviser Kushner meets with Palestinian Pres. Abbas following his meeting with PM Netanyahu; Kushner tells Abbas Trump aims to realize 'the ultimate deal' of Israeli-Palestinian peace, though he remains hazy regarding the Palestinians' goal of a two-state solution.
US President Donald Trump remains committed and optimistic about achieving Israeli-Palestinian peace, his son-in-law and senior adviser told the sides on Thursday during his first visit to the region since last month's surge of violence. After first meeting Prime Minister Benjamin Netanyahu earlier Thursday, Kushner and the rest of the US delegation met with Palestinian President Mahmoud Abbas.

Kushner, a 36-year-old real estate developer with little experience of international diplomacy or political negotiation, arrived in Israel with US Middle East envoy Jason Greenblatt on Wednesday after meeting Arab leaders in the Gulf, Egypt and Jordan.

Despite Kushner's encouraging words, there was little to suggest any breakthrough or significant progress toward ending a decades-old conflict is imminent. This due to the Palestinians' continued promotion of a two-state solution, and Israel's reluctance to move on from its concern over the Palestinian Right of Return.

Jared Kushner meets with Mahmoud Abbas (Credit Reuters) (צילום: רויטרס)
'The Ultimate Deal'
While meeting Abbas later in the West Bank city of Ramallah, Kushner said Trump sought "peaceful relations between the countries in the whole region" and was "very optimistic and hopeful for a better future for all Palestinian people and Israeli people", according to a statement from Abbas's office.

Trump has described peace between Israelis and Palestinians as "the ultimate deal," adding a new wrinkle last February by saying he was not fixed on two states co-existing side by side as a solution to their dispute.

Kushner last traveled to Israel and the Palestnian territories in June. A month later, he was involved in telephone diplomacy to stem Palestinian and Jordanian unrest over Israel's handling of a contested Jerusalem holy site. Four Palestinians, three Israelis and two Jordanians were killed during the crisis.

Palestinian protestors staged a rally criticizing Kushner's visit to Israel and his meeting with Netanyahu. Trump's US administration is largely considered to foster strong pro-Israel sentiments.

Protest against Kushner's visit, Ramallah, Aug. 24

Abbas spokesman Nabil Abu Rdainah said Kushner's visit could prove significant, particularly because of the envoy's consultations with regional allies this week:

"This may create a new chance to reach a settlement based on the two-state solution and the Arab initiative and stop the current deterioration of the peace process."

Abu Rdainah was referring to a 2002 Arab League initiative that offers Israel diplomatic recognition from Arab countries in return for a statehood deal with the Palestinians and a full Israeli withdrawal from territory it captured during the Six Day War.
Netanyahu expresses concern over issue of Palestinian refugees
For his part, Netanyahu faces pressure from right-wing coalition partners not to give ground on Jewish settlement building in territory that Palestinians seek for a independent state. The settlement issue contributed to the breakdown of negotiations three years ago.

"We have things to talk about—how to advance peace, stability and security in our region, prosperity too. And I think that all of them are within our reach," Netanyahu, welcoming Kushner to his Tel Aviv offices, said in a video clip released by the US Embassy.

"The president is very committed to achieving a solution here that will be able to bring prosperity and peace to all people in this area," Kushner, who was tasked by Trump to help broker a peace deal, said in his response to Netanyahu.

Netanyahu, for his part, expressed tentative support for parts of the blueprint, but there are many caveats on the Israeli side, including how to resolve the complex Palestinian refugee issue.