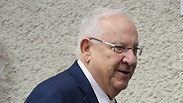 President Rivlin
Photo: Motti Kimchi
Rivlin to consider clemency for IDF soldiers with prior convictions
President Rivlin urges soldiers with criminal records to file pardon requests, citing desire to provide youngsters, whose 'personalities have not yet solidified,' with best chances of integration into the workforce 'without the residue of the past.'
President Reuven Rivlin has called upon IDF soldiers with criminal records to file a special request to the President's Residence seeking a full removal of prior convictions in a bid to optimize work prospects and facilitate greater integration into society.

"There is great importance in the ability to allow for the opening of a new page for citizens who work for the society in which they live and for their families when the residue of the past is behind them," Rivlin said.

He also emphasized that the crimes committed by youths in the past were not necessarily reflective of their adult characters and that therefore no impediment should be placed on their future prospects. "When we are talking about youngsters who personalities have not yet solidified, this possibility becomes even more significant."

A statement issued by the President's Residence referenced further its importance for IDF soldiers. "For every person, especially for soldiers completing meaningful service, there is an option to submit a pardon request to erase a criminal record," the statement began.

"The president of the state will give serious consideration to the request and pay particular attention to youngsters just starting out in order to enable them to embark on their new journey without the residue of the past," the statement explained.

The request will be able to be filed to the Pardons Department of the President's Residence, while soldiers also have the opportunity to submit their request via the Chief Education Officer Committee in the Army.

Demonstrating the sincerity behind the initiative, the president recently granted clemency to a number of soldiers who carried out their military responsibilities and careers with the utmost professionalism, thereby enabling them to turn a new leaf and facilitate greater integration in the workplace.

In addition, Rivlin wiped the slate clean for three appellants from the IDF—following recommendations by their commanders and the military judicial bodies—who had committed crimes prior to their enlistment.

Two of the soldiers had served in combat roles and were praised by their commanders for their service. Moreover, one of the soldiers was officially recognized for his distinguished service in his platoon.