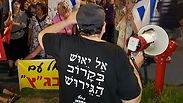 The protest in South Tel Aviv
Photo: Yariv Katz
South Tel Aviv residents protest HCJ decision freeing infiltrators
Furious over the HCJ ruling that prohbits the state from forcible deportations and indefinite interment of infiltrators, residents of the south side of Tel Aviv gather in protest, vowing to bring their fight to Chief Justice Miriam Naor's house every Shabbat.
Residents of South Tel Aviv gathered in protest Monday evening, following the High Court of Justice's decision, which ruled that the State of Israel may no longer detain infiltrators for more than 60 days.

According to the existing law, infiltrators who refuse to be deported can be held against their will indefinitely at Saharonim Prison in the Negev, until they are "convinced" to be deported to another country.

Several top ministers as well as Prime Minister Benjamin Netanyahu voiced their dissatisfaction with the decision, vowing to work so that the state could work around it.

Shefi Paz, a resident of southern Tel Aviv and one of the leaders of the struggle against the infiltrators, said on Monday that "if the enlightened judges want them here, we will move to live in the beautiful streets of Rehavia and demonstrate every Saturday."

The appeal was submitted in 2015 by two Eritrean nationals facing deportation and six human rights organizations. Paz claimed that "foreign money that funds the petitioning organizations causes up to live under an occupation."

After spotting a dark-skinned man, Paz yelled at him, "Why did you abandon your mother? I'll escort you to the airport, I'll buy you chocolate."

During the organized press conference in South Tel Aviv, Paz said, "Over the past 20 months, the High Court of Justice has delayed its ruling as a maater of policy, to entrench them here. Thousands of children were born in the neighborhoods. Their settling is growing. 1,000 children each year. It won't help them to sing Hanukkah songs, they are not Israeli. It's the kids who said 'Thank you very much to the Nazis who slaughtered you.'

"Our children do not go to public gardens. We are being buried by negligent and irresponsible birth rates. In another five years the whole country will suffer from them"




Another activist, Doron Avrahami, added, "Those who want them here are invited to take them in. We want quiet, I want to walk with my children at night and get to the central bus station without fear. It's inconceivable to hear people tell me they lock their cars while driving. This isn't just South Tel Aviv's struggle, but the whole country's. It's going to reach everywhere. We won't give up, we're not second-class citizens. The people are the ones to decide, and the judges must listen to us. And if they cannot understand this, we will demonstrate Shabbat after Shabbat and bring the entirety of the people of Israel to stand in front of (Chief Justice—ed) Miriam Naor's house."

Representing the other side of the argument were the organizations that led the appeal—the Refugee Rights Clinic at Tel Aviv University, the Hotline for Refugees and Migrants, the Association for Civil Rights in Israel, the African Refugee Development Center, Physicians for Human Rights and Aid Organization for Refugees and Asylum Seekers in Israel—which welcomed the decision.

"Since 2012, there have been 64,000 asylum seekers in Israel, and today only 28,000 Eritreans and 8,000 Sudanese remain," the organizations' statement read, adding that "asylum seekers are fleeing Israel by the thousands due to the abuse they suffer from the hands of local authorities, even without being held captive. We will keep fighting for the State of Israel to provide a humane solution for the asylum seekers who have been living within its borders for over a decade."