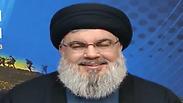 Hezbollah Secretary General Hassan Nasrallah broadcast a speech the Al-Manar television network on Monday, in which he declared the organization's victory in the war against ISIS along the Syrian border. During his speech, Nasrallah also managed to sneak in a zinger against Prime Minister Benjamin Netanyahu, saying that Netanyahu and senior Israeli officials "are the ones crying today about ISIS in Syria and Iraq."
"On May 25, 2000, we said we had removed the Zionist occupation. Today we are saying we have taken out the takfiri occupation (ISIS—ed)." Takfiri is a term used when one Muslim accuses another Muslim of abandoning their faith.
Hezbollah fighters alongside Syrian army soldiers battle against ISIS on the Lebanese border (Credit: Reuters) (צילום: רויטרס)
"We have removed all the terrorists who were on the border and posed a threat to the whole of the Lebanon Valley."
Nasrallah added: "Israel is an enterprise of occupation and hegemony, the United States is a hegemony enterprise, and ISIS and the terrorist organizations are the extermination enterprise of every Muslim, Christian, Yazidi and everywhere. ISIS was supposed to destroy our region, the army and our institutions, delivering it santized and cooked for the US and Israel."
Nasrallah added that as a result of ISIS's defeat, "Who is crying over ISIS in Syria and Iraq? Netanyahu and senior Israeli officials," adding that "they are the ones who cry and scream, they are the ones who have a problem with the Trump administration, whose priority now is to eliminate ISIS, the same Trump government that admitted it was the Obama administration that created ISIS. This is why it is impossible to claim there is a difference between liberation of South Lebanon (Hezbollah's attempts to conquer the Israeli Golan Heights) and this campaign (against ISIS). It is a continuation of the campaign against Israel."
On Sunday, Hezbollah, the Lebanese army and the Syrian army announced a cease-fire of their operations against ISIS along the Lebanese-Syrian border. As part of the agreement, ISIS provided information on the eight kidnapped Lebanese soldiers held by ISIS since the summer of 2014, when the terror group took control of the mountainous area of ​​the Syrian-Lebanese border, together with the former al-Qaeda branch, Jabhat al-Nusra.
At the same time, ISIS agreed to transfer to Hezbollah the bodies of Hezabollah militants killed in battles with Syria and Lebanon, and the bodies of two other militants killed on other fronts in Syria, in addition to one presumably live captive. The body of Mohsen Hajji, a member of the Revolutionary Guards who was executed three weeks ago,will also be transferred to Hezbollah.