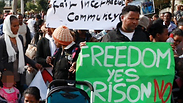 File photo of African asylum seeker demonstration
Photo: Moti Kimchi
With emotions running high in the political establishment and on the streets of south Tel Aviv—which has been hardest hit by illegal migration—following the High Court of Justice's (HCJ) Monday decision stating illegal aliens cannot be detained for more than 60 days, Eritrean migrants have also weighed in.

According to the decision, the illegal aliens can be forcibly deported to a third African country, but obstacles have been placed upon implementing such a policy due to prior state assurances against it.

"I came here after suffering through wars in Eritrea. I came here to live my life and to no longer be made miserable," said an illegal migrant identified as 'B.', who came to Israel from Eritrea in 2012 and is now being held in the Holot detention facility.

"The Ministry of the Interior never replied to my request for asylum," he claims, "made immediately upon my arrival. I've been in Holot for the past six months and spent three months in Saharonim before that. I hope we can finally be free but I'm not optimistic, because the state always finds a way of getting around the court's decisions. Were it up to me I wouldn't stay here for one minute longer, but I just have nowhere else to go."

"It isn't easy being a normative person who's locked in prison," adds B. "They say the facility's open and you can go wherever you like and only come back at night, but it's not really true. There are a lot of Ministry of Interior decrees and we're being intimidated. They don't want us asking for anything: if I say I need to leave for a wedding or a funeral, I'm told I'm a liar and I shouldn't open my mouth in Israel."

'H.,' another illegal migrant being held in the Holot detention facitlity, says that he too never came to Israel to cause problems. "I'm an asylum seeker," says H. "I didn't come here to commit crimes or make a mess. I don't know why I'm being held in Holot or why the state won't reply to my asylum request. If Israel signed a refugee protection convention all I'm asking is that it stand by it.

"I couldn't live a normal life in Eritrea," H. recounts, "it's like one giant prison, living under a dictatorship and war. I only want my freedom and hope we'll soon be released."

Current Israeli law says a foreign national may be detained indefinitely until they're "convinced" to agree to willing deportation. The judges' recent ruling, however, severely curtailed Israel's ability to forcefully deport those objecting to it by using prolonged incarceration.

Dr. Tally Kritzman-Amir, an expert on refugee law from the Ramat Gan College of Law and Business, clarified the meaning of the ruling. "The High Court never invalidated the possibility of removing asylum seekers to Uganda and Rwanda, despite the fact they don't seem to be able to offer those deported complete safety and the fact that the details of the agreement to move these migrants to the two countries weren't divulged," she explained.

"Nevertheless," Kritzman-Amir continues, "the court insisted asylum seekers cannot be coerced into agreeing to deportation by using prolonged incarceration on the ones who won't cooperate, saying a third-country removal requires willful consent and cannot be coerced by the revocation of liberty."

"By so doing the court blocked yet another attempt to exert undue pressure on the asylum seekers, in essence pushing them out of Israel by making their lives here so unbearable they end up agreeing to be deported," she concluded her analysis.

Data presented by Amnesty International shows that until June 2017, 8,490 asylum requests have been submitted to Israel by Eritreans and 5,274 by Sudanese, totaling 13,764 requests.

Until November of last year, 2,066 of these requests were summarily rejected and 1,350 were rejected after a brief legal procedure. In total, 7,282 asylum requests received no reply.

Amnesty claims only two Sudanese and eight Eritreans received a refugee status in Israel.