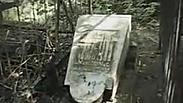 The cemeteries' gravestones have all been torn down
Belarus court approves construction over two demolished Jewish cemeteries
Following ruling, two residential towers to be built over ancient Jewish cemeteries after protest by local Jewish organizations and MK Ksenia Svetlova fail to prevent demolition; 'Bones of Jews have become construction waste,' says President of World Association of Belarusian Jewry Yakov Gutman.
Residential towers will be constructed over ancient Jewish cemeteries in Belarus, following a ruling by the country's district court, despite petitions from the local Jewish community headed by Yakov Gutman, President of the World Association of Belarusian Jewry.

Two Jewish cemeteries in Gomel, Belarus, at least one of which is from the 12th century, were completely demolished recently after a highly publicized public battle failed to secure their preservation. With the destruction, human remains can be found strewn around the leveled ground.

"The bones of Jews have become construction waste, and are mixed in with concrete," said Gutman after the ruling.

Two years ago a similar decision was made in the country to demolish a Jewish cemetery in Mazyr. The Belarus Jewish community also accused President Alexander Lukashenko of sanctioning the destruction of three synagogues in Lyuban and Minsk, and two other Jewish cemeteries.

A tour of the Jewish cemetery in Gomel before its destruction

"It's a disgrace," said Rita, whose grandmother was buried in the cemetery. "We weren't informed of anything. People went through the Holocaust, and end up like that. Now we don't know where her grave is," she bemoaned. "We want to go there, but my grandmother's grave is gone. How can you do something like that?"
There is no one to talk to
The Belarus Jewish community—dating back to the 12th century—numbers some 10,000 people today. Gutman says local Jewish heritage has suffered irreparable harm under Lukashenko and activists are afraid to fight it out in local courts, particularly given his know cavalier attitude toward human rights. Indeed, the president was arrested in 2004 for human rights violations.

Commenting on the court's ruling, the Belarusian Ministry of Construction and Social Services said it possesses no information as to the location of the aforementioned cemeteries.

MK Ksenia Svetlova of the Zionist Union wrote to President Lukashenko, asking for his assistance in the matter.

"I ask you to intercede and make sure no harm comes to the cemeteries," Svetlova wrote during the struggle against demolished. Today she works to prevent construction in the area.

"A year ago your government's minister of foreign affairs signed a declaration created by the World Jewish Congress according to which your government—like any other government which signed the declaration—will do everything in its power to preserve heritage sites which are holy to any religion. Among these sites are Jewish cemeteries," she again wrote the Belarusian president.

"Many Jewish heritage and cultural sites may be found in Belarus," she continued, "and up to now Jews have enjoyed freedom of religion and worship, like members of other religions. Cemeteries are holy sites, a point thus far understood and religiously respected in your country."