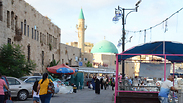 File photo of Eid al-Adha in Acre
Photo: Mohammad Shinawi
Central Bureau of Statistics reports Muslim growth rate still highest in Israel
Central Bureau of Statistics releases a report detailing statistics concerning Israel's Muslim population before Eid al-Adha; Israel's 1.534 million Muslims are 17.7% of the populace; Muslim growth rate, unemployment are highest in country despite fertility rate dropping steadily.
In honor of the Eid al-Adha, or the Feast of Sacrifice, taking place this weekend, the Central Bureau of Statistics (CBS) has released several statistical figures regarding Israel's Muslim population including the number of Muslims in Israel, the sector's growth rate and employment, education and financial statistics.

The Bureau's data shows 1.534 million Muslims resided in Israel in 2016, comprising 17.7% of the country's populace. During the past year, their number has grown by 36,000 people. The Muslim population's annual growth rate has remained constant in the past three years—staying put at 2.4% a year—still the highest among minorities in Israel.

The CBS cited Jerusalem as the city with the highest number of Muslim residents, 320,000 in all, making up 36.2% of the its population and 21% of the total number of Muslims in Israel. The country's second largest concentration of Muslims is in Rahat in the Negev, where 64,300 Muslims reside.

Fertility rate in Muslim society is dropping, however, from 4.7 children per woman in 2000 to 3.29 children today. This is still the largest birth rate in Israel, trumping the Jewish, Druze and Christian numbers. Thanks to this statistic, as well as other, Muslim population is relatively young, with the number of children and young adults far outweighing the number of elderly persons. Roughly 35% of the Muslim population are 0–14 years old (making up 534,300 in absolute terms), whereas only 3.9% of the populace is 65 and over (or 59,800 people).

As for employment, CBS data shows unemployment rate among Muslims is 6.7%, much higher than the Jewish and Christian rate—which is 4.5%—and slightly higher than the Druze number of 6.2%.

In higher education, a growth has been noted in the number of graduates with 7.7% compared to last year's 7.3%, but this is still much lower than the rate of university or college graduates in the overall population, which is 18.8%.
Food expenses are 50% higher
Another interesting comparative perspective is the distribution of household income. "The total average monthly expenditure on consumption in Muslim households comes to NIS 13,202, compared to 15,930 in Jewish households," the CBS report.

The CBS goes on to say this average monthly expenditure is only 82.9% of the Jewish one, despite the average number of people in Muslim households being 4.7 compared to the lower Jewish average of 3.1.

The distribution of expenses shows 23% of Muslims household expenses are on food, compared to only 15.5% among Jews. Housing, meanwhile, makes up 19.7% of Muslim expenses compared to 25.5% among Jews. In web connectivity, 37.8% of Muslim households enjoy internet connections, a low figure compared to the 78.8% in the Jewish sector.

Following this last figure, Israeli Muslims receive almost all of their entertainment from private satellite dishes, owned by 89.5% of Muslims, with the number of cable or satellite subscriptions being especially low at 4.6%. For comparison, among Jews the numbers are reversed with 67.9% connected to either cable or satellite providers and only 4.8% owning private dishes.

Eid al-Adha is a Muslim and Druze holiday marking the end of the Muslim year and the pilgrimage, or hajj, to Mecca. Those who cannot make the pilgrimage offer a lamb as sacrifice, either for members of their family or as alms for the poor.