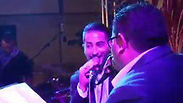 Singer Muhammad al-Bargouti singing inciting song
IDF arrests Palestinian singer for song inciting terrorism
In the first arrest of its kind, Israeli security forces battle incitement by arresting singer, songwriter and producer behind song praising Halamish terrorist Omar al-Abed; in addition, 15 arrested overnight raid, 11 suspected of terror activity and violent rioting; forces seizes weapons as well.
Israeli security forces arrested on Tuesday a singer from the village of Bani Zeid in the West Bank over a song praising Omar al-Abed, the terrorist who stabbed to death three members of the Salomon family in Halamish last month.

In addition to the singer, Muhammad al-Bargouti, other accomplices who produced the song as well as an online video for it were also arrested.

IDF, Israel Police and Border Police forces also confiscated recording equipment from the studio the song was recorded in.

IDF troops arrest singer of inciting song

The lyrics of the song include lines that refer to the terrorist's village, Kobar: "I heard the gunshots from the rifle in Kobar / Omar crossed the woods and carried out the attack."

The song was played at a wedding a week ago and a video of it was uploaded to social media.

Song praising Halamish terrorist

Since, Israeli security forces have arrested the songwriter, the producer, and the distributor of the song.

This arrest, of singers and writers of Palestinian incitement songs, is the first of its kind in the West Bank.

IDF and Shin Bet forces have also once again shut down the Hebron radio station Al Hurriya for regular broadcast of content inciting terrorism.

In addition, IDF and Shin Bet forces carried out a raid overnight in the West Bank in search of weapons, uncovering nine homemade weapons in the village of Beit Ur al-Fauqa, a pistol in Hebron, and a homemade weapon in the town of Al-Ram.

Fifteen suspects were arrested overnight, 11 of them suspected of terror activity and violent rioting. The suspects were arrested in Ramallah, Nablus, Balata, Mirka, Ya'bad, Rammun, Deir Abu Mash'al, Asira ash-Shamaliya and Bani Na'im.

Clashes broke out during IDF operations in al-Am'ari, with some 200 Palestinians burning tires and throwing stones at IDF forces. The troops responded with crowd dispersal measures. Several Palestinians were reportedly injured and taken to the hospital for medical treatment.