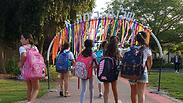 Israeli children return to school
Photo: Barel Efraim
First grader boys outnumber girls as 2.2 million kids enter classrooms
As summer vacation draws to a close, 163,000 children enter their first year and 123,500 begin their final year, with latest figures showing larger overall ratio of boys to girls; President Rivlin addresses kids in Ma'ale Adumim, telling them 'we always need to respect one another'; parents welcome Bennett's decision to ease financial burdens by reducing Passover and Hanukkah holidays for younger kids.
The summer vacation ended Friday morning as 2.2 million Israeli children made their way to school to begin the new term, with around 163,000 boys and girls entering their first year and 123,500 beginning their final year.

According to the latest figures, 51 per cent of those in the first grade are boys while 49 per cent are girls. More precisely, 82,360 of the first graders will be comprised of boys, while 79,014 of girls.

Israeli children return to school for new year (צילום: גיל יוחנן)

The stats are all the more surprising due to the fact that the most recent numbers on demographics indicate a greater ratio of women in Israel's population.

Joining the children will be an army of school and kindergarten staff numbering approximately 180,000.

Prime Minister Benjamin Netanyahu told children during a visit to a school in Harish that "this is our country, this is our state and this is our home. Always remember that."

"I know that many of you came from different places in this country but you will learn that the Jewish people didn't have a country, we didn't have a home, we were scattered and we returned to here. We returned and gathered on this land. This is your land, this is your state and your home."

President Reuven Rivlin joined the children on their first day at a school in Ma'ale Adumim. "How great that you live in a beautiful city like this, a wonderful city, a city with such a great air," the president told first graders.

"As students you have a lot of questions and Noam already asked me a few questions. He asked me 'are you the president?' and I told him I am. He asked 'what do you do in school?' and I said I have a lot to say," the president joked before recalling his memories of his first day as a first grade student.

Telling his young listeners that like him, they too will never forget their first teacher at school, he concluded with a message delivered to all children returning to school across the country, reminding them that no matter what "we always need to respect each other."
Strikes and runaway children
While the vast majority of children across Israel eagerly entered the school premises to the welcoming sounds of Israeli and Jewish music, strikes led by educational workers and parents went ahead as planned in several schools over a series of complaints, including lax security arrangements outside the schools.

According to the Education Ministry, a number of kindergartens in the northern city of Rosh Pinna remained closed after disgruntled parents refused to send their children due to the increased prices of lunches.

In Zikhron Ya'akov, also in the north, teachers and parents announced in one school that they would be striking over what they described as inappropriate conditions in the school.

Further south, in a school in the central city of Petah Tikva, parents informed staff members their children would not be returning to school due to the municipality's decision to allocate part of the building to an ultra-Orthodox association while first graders are expected to learn in caravans.

Also participating in the strikes dotted throughout the country are the parents of 1,500 children aged 3 - 6 in Tel Aviv, who announced Thursday their children will not be attending the first day of school due to reduced security arrangements.

Specifically, the parents are objecting to the Tel Aviv Municipality's decision to no longer station a guard in each of the city's 35 kindergarten complexes, with ten of the 35 complexes to now be guarded by 12 patrol squads instead.

The parents' concerns were proved justified when two young children were able to leave their kindergartens and were found wandering outside by strangers.

One toddler left his kindergarten after one of the parents forgot to close the gate. He was found by neighbors several minutes later at a nearby construction site. The second child also walked out of an unclosed gate and was found on the sideway near a street crossing not far from the kindergarten by two strangers.
Shorter breaks during school year
But not all parents welcomed the new year with anger. Indeed, during the new year some parents will also be able to relax a little longer on Hanukkah and Passover after Education Minister Naftali Bennett decided to truncate the holidays given to the students on these 8-day holidays.

Parents have long voiced complaints over the fact that the holidays on these festivals demand their absence from work or force them to pay for carers. However, the reduced holiday will only apply to first, second and third graders. From next year, the shortened holiday will also be extended to Sukkot.

"My aim is to significantly reduce the number of holiday days on Hanukkah and Passover in order to make it easier on the parents," Bennett explained.

"We realized that this is the biggest difficulty at the moment because of the differences between holidays for students and holidays from work. I am working with the minister of finance, and just as we succeeded in reducing class sizes and increasing assistance, I am convinced we will succeed here too," he concluded.

Tamar Trabelsi-Hadad, Shahar Chai, Yishai Porat and Yael Friedson contributed to this article.