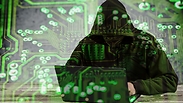 File photo
Photo: Shutterstock
Israeli-British hacker accused of launching cyber attacks against UK banks
Daniel Kaye is accused of using an infected network to attack Lloyds Banking Group and Barclays and attempting to blackmail them; extradited to Britain from Germany after being convicted in Cologne of attack against German telecommunications company.
An Israeli-British man has been extradited from Germany after being accused of launching cyber attacks on the networks of Lloyds Banking Group and Barclays banks this year.
Daniel Kaye, 29, a dual British and Israeli citizen, is accused of using an infected network to attack the banks' systems and attempting to blackmail them.
Services at Lloyds and Barclays banks were disrupted by distributed denial of service (DDoS) attacks in January, the UK National Crime Agency said in a statement following a joint investigation with Germany's federal crime bureau BKA.
The attack on Lloyds Banking Group lasted three days and prevented some customers using their online accounts, although a bank spokeswoman said that no customer details or accounts were compromised.
The attack is estimated to have cost Lloyds £190,000 and Barclays around £146,000.
Kaye allegedly developed software that allowed him to control up to 1.5 million computers all over the world.
He was extradited on Wednesday on a European arrest warrant.
Kaye faced nine charges under the Computer Misuse Act as he appeared at Thursday's hearing at Westminster Magistrates' Court.
He also faces a charge that he "endangered human welfare" with an alleged cyber attack against Lonestar MTN, Liberia's biggest internet provider, the NCA said in its statement on Wednesday.
"The investigation leading to these charges was complex and crossed borders," said Luke Wyllie, senior operations manager at the NCA.
"Cyber crime is not victimless and we are determined to bring suspects before the courts," he said.
Kaye was remanded in custody until his next hearing.
Attack on German telecommunications company
In July, Kaye was convicted in Germany for a massive cyber attack against Deutsche Telekom last year.
The regional court in the western city of Cologne decided to suspend the sentence of one year and eight months against Kaye following pleas to this effect by both prosecutors and the defense.
Kaye described as "the worst mistake of my life" the attack that knocked more than one million German households offline in November, carried out for money on behalf of a Liberian client.
He was detained in February at London's Luton airport on a European arrest warrant for attempted computer sabotage and extradited to Germany.
German police said the goal of the attack was to infect users' computers with a "botnet" -- a network of web-connected machines that can be manipulated with malware and used to assault other online targets.
Kaye told the court he was paid $10,000 (about 8,500 euros) by a Liberian telecom company which wanted to use the botnet to damage a local rival.
The attack, which the company said caused about two million euros of damage, ended when it advised customers to disconnect their routers and restart them after a software update.