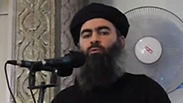 Islamic State leader Abu Bakr al-Baghdadi
Photo: AFP/HO/Al-Furqan Media
Elusive Islamic State leader Abu Bakr al-Baghdadi is probably still alive and likely hiding in the Middle Euphrates River Valley, a senior US general said Thursday.
"We're looking for him every day. I don't think he's dead," Lieutenant General Stephen Townsend, commander of the counter-ISIS coalition in Iraq and Syria, told reporters in a conference call.
Townsend admitted he didn't "have a clue" where Baghdad is precisely, but believes he may have fled with many other ISIS soldiers into the Middle Euphrates region stretching from Syria to Iraq, after coalition and local force assaults on the ISIS bastions of Mosul, Raqa and Tal Afar.
צילום: רויטרס
"The last stand of ISIS will be in the Middle Euphrates River Valley," Townsend said.
"When we find him, I think we'll just try to kill him first. It's probably not worth all the trouble to try and capture him."
With a $25 million US bounty on his head, Iraq-born Baghdadi has successfully avoided an intense effort to seek him out for six years or more.
Britain-based Syrian Observatory for Human Rights, a longtime conflict monitor, said in mid-June that it had heard from senior ISIS leaders in Syria's Deir Ezzor province that Baghdadi was dead.
Russia's army said in mid-June that it was seeking to verify whether it had killed him in a May air strike in Syria.
"I've seen no convincing evidence, intelligence, or open-source or other rumor or otherwise that he's dead.... There are also some indicators in intelligence channels that he's still alive," said Townsend.