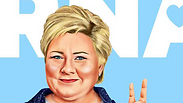 Erna Solberg
Illustration: Amit Shimoni
After the project "Hipstory" by Israeli illustrator Amit Shimoni was published all over the world, Norwegian Prime Minister Erna Solberg hired his services to draw her as a hipster for the upcoming elections in Norway on September 11.

Shimoni drew former President Barack Obama, President Donald Trump, German Chancellor Angela Merkel, former Prime Minister David Ben-Gurion, Theodor Herzl, and many more—turning them all into colorful hipsters, young and full of character.


Solberg's campaign manager saw Shimoni's illustrations and hired him for a campaign aimed at young voters in Norway. "The reactions we get are fantastic," the campaign manager said.

'Hipstory,' by Amit Shimoni

The result exceeded expectations and won wide acclaim in Norway. Solberg was portrayed as a colorful, cool and peaceful figure. The leader was enthusiastic about the drawing, and the figure was stamped on shirts, posters, key chains, glasses and more.

"The offer from Norway was very flattering but did not surprise me," Shimoni said. "I think the project creates communication between people, it communicates in China as it does in the US, and it creates communication between a granddaughter and her grandmother.

"Teachers from all over the world tell me that they teach history with 'Hipstory.' So the campaign manager's strategy to appeal to the younger generation through the illustration seemed very natural to me, and to my joy it worked."

"Hipstory" began as Shimoni's final project at Bezalel Academy of Arts and Design, three years ago. Shimoni drew a series of 12 Israeli leaders in contemporary versions, and from there the project grew and became international.

The project aroused interest and received media reactions and reviews in leading magazines, and even received responses from the families of the leaders themselves.

Nelson Mandela's grandson, for example, wrote Shimoni an encouraging e-mail and even wanted to create a philanthropic collaboration with him. The Dalai Lama Foundation was also enthusiastic about the illustration and ordered products that bore the Dalai Lama's liking from Shimoni.

This is the first time that Shimoni has received a request from a political campaign by an incumbent leader.

Shimoni painted former Secretary of State Hillary Clinton at the request of the New York Times, but before she announced her candidacy for the US presidency.

The newspaper presented the painting to Clinton as a gift at an event of the newspaper, which she attended.