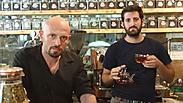 Schwartz and Piamenta
Photo: Alex Kolomoisky
Kashrut fees raised on Jerusalem business over new Russian partner
The owner of the Jerusalem tea house Halita'tea was surprised to learn he would have to pay more to keep his kashrut certificate from the Chief Rabbinate because his new business partner, Leon Schwartz, is of Russian descent; 'the kashrut supervisor told me: "I don't like the looks of him, he's Russian, I don't trust him."'
Gabriel Piamenta, the owner of the Jerusalem tea house Halita'tea, was shocked to learn he would have to pay more money for his kashrut certificate because his new business partner is of Russian descent.

Halita'tea has been in business for four years and has had no kashrut issues so far. Recently, when Piamenta decided to expand, take on a new business partner and move his business to a larger location across the street, he was surprised to learn the Jerusalem Religious Council raised the kashrut certification prices on him.

"We noticed the new kashrut certificate wasn't coming, so I called the kashrut supervisor to ask what happened," says Piamenta.

"He told me they won't issue a new certificate for us until we sorted out the financial issues because the new place was bigger and requires more work for the kashrut supervisor," he went on to say.

Piamenta, who grew up in a religious house, was never happy with the work of the kashrut supervisor, who he says came to the business once a month "to collect his check and sit around for a little bit."

"I told him this was merely a ploy, that the supervisor didn't do anything beyond checking that there is a kashrut certificate, and that even if the work in the kitchen increased fourfold, he was still only really coming to check the certificates," Piamenta went on to say.

"And then he told me he had met my new business partner, Leon. He told me: 'I don't like the looks of him, he's Russian, I don't trust him,' and said this was why we were being charged more money."

Leon Schwartz, Piamenta's new partner, says he was shocked to learn this. He made aliyah from Russia at a young age and has been living in Israel for almost 30 years. "When I was nine, I asked my father to be circumcised," he recounts.

"They're looking for excuses to take more money," Schwartz says. "A lot of the time they seem to forget that 'Though shall not steal' and 'Thou shalt not bear false witness against thy neighbor' are the basic tenets of the Ten Commandments. It just proves they're thieves and liars, and to me that makes me more Jewish than them. The basis of Judaism is to be a human being before anything else."

Piamenta says the tea house's dishwasher, who is of Ethiopian descent, was also marked by the kashrut department as reason to increase supervision of their kitchen.

"He (the kashrut supervisor) stated the fact there's a 'negro' working in the kitchen, meaning our Ethiopian dishwasher. So (his claim was) if the supervisor is not present, there is no one to make sure (the dishwasher) doesn't touch the food. He treated him as 'black,' the same way he treated Leon as 'Russian,'" he explains.

The two business partners decided to turn to their customers through Facebook and seek their opinion on whether the tea house should keep getting its kashrut supervision from the Chief Rabbinate.

Following recommendations from many customers, Piamenta and Schwartz are now considering switching to the services of the Hashgaha Pratit (private supervision) organization.

"In light of the kashrut supervisor's comments and the unpleasantness of working with him, we began looking for alternatives to the (Chief) Rabbinate. We're keeping the place kosher, just as it was before, and we're looking for a solution that would allow our customers to keep frequenting us," they said on Facebook.

Rabbi Oren Duvdevani, the head of Hashgaha Pratit's kashrut supervision apparatus, said the organization was "already in contact with the business, and with God's help we will offer them the service we already provide dozens of businesses across Israel—kashrut, according to the Halacha (Jewish law), with accredited supervisors who, in addition to being highly professional and well versed in kashrut law, believe that proper behavior precedes the Torah."

The Jerusalem Chief Rabbinate said in response, "The tea house operated on 5 Hillel Street under limited format and moved its location to 6 Hillel Street under a broader format, both in terms of space and supply. Therefore, the business must pay additional fees in accordance with the law. The claims the business owners made, while making cynical use of the media, are distorted and outrageous and are a failed attempt at winning the sympathy of certain publics."