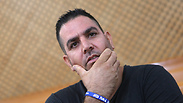 Meni Naftali
Photo: Alex Kolomoisky
Meni Naftali receives immunity from self-incrimination
Meni Naftali's testimony in the Prime Minister's Residence Affair is considered as testimony by a state witness, giving him immunity from self-incrimination; his lawyer stresses he is not technically a state witness, as he was never accused of anything.
The Jerusalem District Prosecutor's Office informed former Prime Minister's Residence superintendent Meni Naftali Sunday that it would consider his testimony in the affair involving Sara Netanyahu's alleged misuse of state funds as if he were a state witness.

In a letter sent to his attorney, Lolik Assal, it was said that Naftali's testimony would receive immunity from self-incrimination if an indictment was filed.


The letter also states that Naftali himself was the one who approached the police and offered to give them information—in return for immunity from self-incrimination.

The letter was sent after Attorney Assal claimed that "Mr. Naftali is not a state witness and never was a state witness," adding that "Naftali will not serve as a witness" in this case, as he is not a suspect in it.

"Naftali was never interrogated as a suspect," said Naftali's second attorney, Daniel Haklai. "He asked for immunity from self-incrimination because, in the course of his testimony, he reported on actions he carried out on behalf of Mrs. Sara Netanyahu, which ultimately included Mrs. Netanyahu's misuse of state funds. He had to ask for immunity from self-incrimination."

According to a statement by attorney Daniel Whitman, a Jerusalem District attorney, Naftali spoke to the police in February 2015 and offered to give them information providing that it could not lead to suspcions against him or his arrest.

After obtaining the approval of the state attorney, Naftali was told that he could rest assure in the knowledge that nothing could be used against him. Later, additional testimonies were taken from him, which Naftali was told would also not be used against him.

Whitman added in his statement that "In these circumstances, if an indictment is filed in this case and your client is summoned to testify, he will have immunity from self-incrimination, also because of this testimony, regarding this affair," but clarified that should he decide to withdraw his consent to testify in court, he may be exposed to criminal proceedings.

The final decision whether or not to file an indictment against Sara Netanyahu rests with the State Attorney's Office, which is in the final stages of formulating the opinion. The decision will be made by either State Prosecutor Shai Nitzan or Attorney General Avichai Mandelblit.

The police announcement at the time stated that there was an evidentiary basis for the prosecution of Netanyahu and three assistants who provided services to Netanyahu and the Prime Minister's Residence.

At the center of the affair is the suspicion that Sara Netanyahu used state funds for paying her private expenses in various cases.

Among other things, this involves the employment of a caregiver for her late father at the expense of the state, and receiving financing for meals at high costs. The Netanyahu family has consistently rejected these claims.