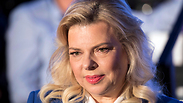 Sara Netanyahu interrogated by police corruption unit
Prime Minister Benjamin Netanyahu's wife Sara completes another investigation at the Police's national crimes and corruption unit Lahav 433; Mrs. Netanyahu's investigation rests on the suspicion that she used state funds to pay for private expenses, including employing a nanny for her late father and special meals for herself.
The wife of Prime Minister Benjamin Netanyahu, Sara, arrived at the Police's national crimes and corruption unit Lahav 433 for further questioning regarding suspicions of misusing state funds. She left several hours later.

In April, it was reported that the State Prosecutor's Office is expected to recommend that Mrs. Netanyahu be prosecuted. The final decision to file an indictment is in the hands of the State Attorney's Office, which is in the final stages of formulating its opinion on the matter. The decision will be made by State Prosecutor Shai Nitzan or Attorney General Avihai Mandelblit.

In the past, the police stated that there was an evidentiary basis for the prosecution of Mrs. Netanyahu and three of her assistants. At the center of the affair is the suspicion that Sara Netanyahu funded her private expenses with state money. Specifically, the police's suspicions involve Mrs. Netanyahu using said funds to pay for her late father's caregiver, as well as for high-priced meals.

The Netanyahu family had previously rejected such claims.